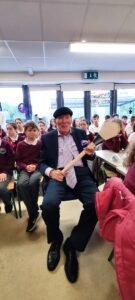 Athea GAA Club Notes:
RIP:
The Club would like to offer our sympathies to the Moran family on the recent passing of Tommy Moran RIP. Tommy was a very proud Athea man, supporting many community projects within the parish and beyond. Only before Christmas Tommy visited Athea National School to present pupils with a collection of slitors and hurleys. Many Limerick supporters from the area would often call into Tommy at the Red Cow on the way to and from matches, and were always well looked after by Tommy and his family. Sympathies to his wife Sheila, children Tommy, Karen, Tracey, Michael, Stephen, Brendan, and the late Sean, and his extended family and many friends.
Step to the Beat:
Step to the Beat was cancelled last week due to the weather conditions. We will return this week with some Irish Music sounding from the speakers from 6.30 – 7.30pm.
Membership:
Many thanks to everyone who has purchased membership for 2023 over the past few weeks. We are pleased to report the numbers of non player/ track user memberships have increased from 2022. Anyone wishing to purchase membership in person so can do so at the Club House from 6.30 – 7.30 on Thursdays during Step to the Beat.
Tickets:
Athea GAA Club has some Con & Annie Kirby passes available for any greyhound enthusiasts in the parish who would like one. Please text/whatsapp 087 6379116
U15 Boys:
Gerald Griffin's/Glin/Athea 0-05
Mungret 4-19
It was a disappointing start to the league campaign for Gerald Griffin's/Glin/Athea, playing against a very determined Mungret on Sunday morning.
Unfortunately, the Gaels found it hard to get into the game, trailing by 21 points after the first half, answering nothing to Mungret's 2-14.
The Gaels didn't drop their heads as they put on a redeeming display of football in the second half, with two brilliant points each for Rory Cleary and Donnadh Daly and a carefully placed point from Sean McKenery.
Mungret, however, pushed on their lead with 2 more goals and 5 points in the second half, showing critical precision in their scores and ending the match as decisive winners.
Gerald Griffin's/Glin/Athea have 4 weeks to regroup before the home game in Glin, against Cappagh/Rathkeale on Wednesday 5th April at 6:30pm.
Gerald Griffin's/Glin/Athea team: Thomas Ahern, Timmy O'Keeffe, Jamie Collins, Jack Adams, Jim Culhane, Harry Fitzgerald, Luke Buckley, Tadgh Ahern, Rory Cleary, Sean McKenery, Jack Sexton, Conor Fitzgerald, Louis O Sullivan, Donnadh Daly, Ciaran Hunt, Alex Quinn, Fergal Leahy, Charlie McDonagh
Subs: H.FitzGerald for J.Culhane, A.Quinn for F.Leahy, D.Daly for T.O'Keeffe
U19 Ladies:
Well done to our u19's who put in a great display against Gerald Griffins on Sunday.
Their next game is at home Sunday 19th V Cappagh at 11am
Ladies County Involvement:
Well done to Grace Hunt who played wing back for Limerick U16 B team against Tipperary on Sunday in round 2 of the Munster Championship.
Well done also to Maeve Murphy and Geraldine Carmody who played a challenge match V Laois on Saturday in preparation for the start of their championship next weekend.
Photos – Athea U19 Ladies team
Tommy Moran pictured presenting Hurleys and Sliotars to Athea National School in 2022