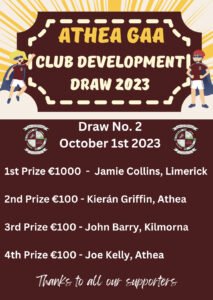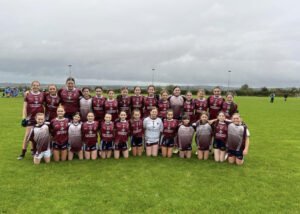 Athea GAA Club Notes:
Split the Bucket:
Congratulations to Gerard Ahern who was last week's Split the Bucket winner, going home with €385.The next draw will take place on Monday October 9th. Envelopes can be purchased at Brown Joes, Dick Whites, Collins Shop, O' Riordan's Pharmacy, Batts , Athea Credit Union, Bingo at Con Colbert Hall on Friday nights, Chinese Takeaway, and during events at Pairc na nGael. Thanks to everyone for your continued support.
Notice to Track Users:
A reminder to all dog owners that dogs must be kept on a lead at all times whilst using our facilities. It has come to our attention that some dogs have been allowed to roam freely at the pitch which has resulted in damage to our facilities. If the problem persists we may have to take the unpopular decision to ban dogs completely. Your support with this matter is appreciated.
Athea GAA Club Development Draw 2023:
Draw No. 2 of our Club Draw took place on Sunday October 1st, where the previous draws winner, Jim Carroll visited the Club House to choose the winners. Congratulations to the follow winners;
1st Prize €1000 – Jamie Collins, Limerick
2nd Prize €100 – Kierán Griffin, Athea
3rd Prize €100 – John Barry, Kilmorna
4th Prize €100 – Joe Kelly, Athea.
Thanks to all our supporters. The next draw is scheduled to take place on October 22nd.
U14 Girls Final
Athea 5.3 Drom/Broadford 7.1
Hard luck to our U14s who lost out to Drom / Broadford in their final played in Athea on Saturday morning in poor conditions. They say that goals win games and this was so true in this game. Despite a great start they were unable to convert possession to scores and conceded two quick goals against the run of play. They found themselves behind at the break 3.1 to 1.1. Playing against the breeze in the second half they rallied and never gave up till the final whistle. Thanks to the management team of Mary Hunt, Stephen O' Rourke and David Murphy for the time and dedication they have put in over the last number of months. Thanks also to Aine and Diarmuid O' Riordan of O' Riordan's pharmacy Athea and Ballingarry for sponsoring the food after the match.
Junior Ladies Semi Final:
Athea will play St Ailbes in the Junior semi final this Sunday 8th Oct at 11am in Croom. Best of luck to the team and management of Mike Reidy, Liz O Sullivan and David O' Connor
Áth an tSléibhe – Coiste na nÓg –3ú Deireadh Fómhair 2023
Torthaí:
Results:
U5 / Nursery & U7 Boys & Girls Football:
Well done to all the boys and girls who took part in their final training session of the year in Pairc Na Gael last Friday night. It was great to see 40 U7 take part in their own parish league. These boys/girls have improved their fundamental motor skills in each session and it was great to see these skills on display during the small sided games. The club would like to thank all the coaches for their time and patience during the year and to the parents who bring them each week and finally a special word of thanks to Ger Collins who organised last week's events.
U8 Girls Football:
The Athea U8 Girls football team who had a brilliant end of year blitz vs Old mill on Sunday morning in Athea. It was a beautiful sunny morning and the quality of football from both teams matched it. Really great to see how everyone has got better and better as the year progressed. It was a great way to end the year. Well done Girls!!
U9 Parish Football League:
Excitement is building with the U9 Parish Football League finals being played this Friday evening October 06th at 6pm. With over 30 players and 4 teams it should be a great evening of football followed by an end of season party and medal presentation.
U11 Parish Football League:
4 teams have been selected and captains announced for the 2023 U11 Parish League with semi-finals to be played Friday October 13th and Finals Friday October 20th at 6pm.
U13 Shannon Gaels Football Tournament:
Athea are delighted to play in the Final of the Shannon Gaels Tournament this Sunday afternoon October 08th at 4pm in Glin. Athea had wins over St. Senans and Moyvane to reach the final where they play the tournament organisers Shannon Gaels in the final. All support is welcome.
U13 Boys Hurling Division 4 County Final:
Athea 0-3 to Knockainey 1-4
That rare county final double eluded this brave and gallant U13 hurlers last Saturday morning in very tough weather conditions. It was a very sporting match and credit to Knockainey and Athea for this. It was not to be our day but to reach a county final was some achievement for this team and to see how far they have come since hurling commenced in Athea in 2019. This is testament to dedication shown by these amazing bunch of boys who never fail to give 100 percent, we must also give a special thank you to their parents who bring them training and to all the matches all year round without their support we could not continue. We would also like to thank Athea United AFC for been so accommodating over the last few weeks changing matches and training so we could prepare for the County Final it is really appreciated. We are looking forward to building on this performance next season. Panel: Tom Mullane, Edward Kelly, Kane Brouder, Paddy O'Connor, Cathal Fitzgerald, Jack Leahy, Jamie Brosnan, Daniel Hunt, Tadhg Hunt, Tony Ambrose, Mark Collins, Aaron Hunt, Nathan Ambrose, Jayden Kiely, Shane Ahern, Se Ahern, Liam Og Reidy, Aaron Broderick, Daniel Broderick.
Cluichí Coiste na seachtaine seo:
This week's Coiste fixtures:
Friday 6th October
U9 Parish League – Semi-Finals & Finals @ 6pm
Sunday 8th October
U13 Boys Football – Shannon Gaels V Athea @ 4pm in Glin (Shannon Gaels Tournament Final)