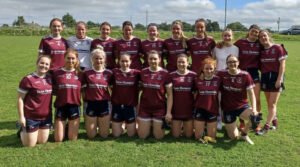 Split the Bucket:
Congratulations to Kathy Collins who was last week's Split the Bucket winner, going home with €327.The next draw will take place on Monday September 25th. Envelopes can be purchased at Brown Joes, Dick Whites, Collins Shop, O' Riordan's Pharmacy, Batts , Athea Credit Union, Bingo at Con Colbert Hall on Friday nights, Moloney's Daybreak, Carrigkerry, and during events at Pairc na nGael. Thanks to everyone for your continued support.
Notice to Track Users:
A reminder to all dog owners that dogs must be kept on a lead at all times whilst using our facilities. It has come to our attention that some dogs have been allowed to roam freely at the pitch which has resulted in damage to our facilities. If the problem persists we may have to take the unpopular decision to ban dogs completely. Your support with this matter is appreciated.
Premier Junior Men's Championship Rd 5:
Athea 1-09 Cappagh 1-1
The Athea boys put in a huge effort, but just fell a bit short against a Cappagh side who had former County player Seamus Carroll in their ranks. We trailed at half time 1-05 to 1-03, with Denis Greaney scoring our goal after a lung bursting run and a good pass from T.J Hunt. In the second half we just couldn't get any closer than 2pts, and Cappagh finished with 2 late points to win by 4. Martin Chawke was again outstanding at full back, Denis Greaney and Eoin o shea were very good at midfield, Micheal Dalton worked hard at centre back and Sean Ryan was the pick of the forwards.
Team – Colin Broderick, Tommy Quaid, Martin Chalke, Eoin Sheahan, David O Connor, Michael Dalton,Shane Mulvihill, Denis Greaney, Eoin O Shea, Darren Murphy, Daire O Shea, Jack O Connor, Kevin Murphy, Sean Ryan, Tj Hunt, subs, Alan Kelly, Luke Gleeson and James Lee.
U8 Girls:
Well done to our u8 who played in a blitz hosted by Fr Casey's last Sunday evening. In this blitz our two teams played some great football against Duagh, Fr Casey's, Monagea and Glin. The girls' skills level and determination developed in each game they played. A special word of thanks to Fr Casey's who organised a lovely evening of football and refreshments afterwards.
U14 Girls:
Well done to our U14 team who had a comprehensive win over Cappagh in Cappagh on Sunday. This was a very spirited performance from start to finish. With all girls playing their part. Special mention to Mary Hunt , Stephen O' Rourke and David Murphy for the training and commitment to the team all year. They will now meet Drom / Broadford in the Final. Time and dates to be confirmed.
Ladies Junior Round 4:
St Ailbes visited Athea last Sunday and although the start of the game was delayed by half hour, this did not deter the home side from starting strongly. Although leading at the break 2.8 to 4 points. Credit to St Ailbes who continued to fight hard for possession in the second half and in the third quarter only conceded 1 point from play. The last quarter was all Athea and with numerous players getting on the score sheet they ran out comfortable winners 4.14 to 8 pts. With this victory we have qualified top of the group, opposition for the semi final will be determined after next week's round of matches. Semi final set for Oct 8th at 11 am.
Áth an tSléibhe – Coiste na nÓg –19ú Meán Fómhair 2023:
Torthaí Results
U11 Boys & Girls Football:
We played our last round of the Go-Games league in Athea last Tuesday evening against a strong Monagea Team. Athea had 24 players togged out on the evening and fielded two Teams as did Monagea. We played 40 minutes of excellent enjoyable football with all players getting full game time. It was a credit to both sides as the standard of play and skills on display were excellent with some great scores being kicked. Thanks to Mark Reidy and James Hunt for referring and all the parents who turned up to support. We will be finishing our Friday evening training shortly for 2023 and hope to play our annual Parish League in early October.
U13 Boys Football Division 3 County Final:
The eagerly anticipated County Final against Monagea is scheduled for this Saturday September 23rd at 12 noon with Venue to be confirmed. It has been a fantastic year for our u13s and a great achievement to get to the County Final. All Support would be appreciated on the day.
U13 Boys Hurling Division 4 Shield Semi Final:
Athea 0:4 v Claughaun 0:4. Claughaun travelled to Athea Monday evening. Conditions were not ideal and lead to a very low scoring match but as always this team kept going and got a point to level it towards the end of the game. Unfortunately the light beat us so a replay is needed to see who progresses to the final. Replay set for Monday 18th September @ 6:45pm in Claughaun. Panel: Eoin Ahern, Tadhg Hunt, Kane Brouder, Nathan Ambrose, Cathal Fitzgerald, Paddy O'Connor, Daniel Hunt, Mark Collins, Jayden Kiely, Se Ahern, Jamie Brosnan, Tony Ambrose, Shane Ahern, Jack Leahy, Liam Og Reidy, Tom Mullane, Edward Kelly, Aaron Broderick, Daniel Brodrick, Aaron Hunt.
Cluichí Coiste na seachtaine seo:
This week's Coiste fixtures:
Monday 18th September
U13 Boys Hurling – Claughaun V Athea @ 6.45pm (Division 4 Shield Semi-Final)
Thursday 21st September U9 Boys & Girls Football – Mountcollins V Athea @ 6.30pm