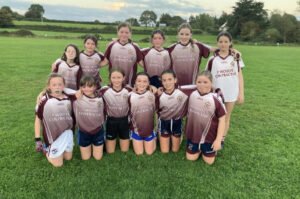 Athea GAA Club Notes:
Split the Bucket:
Congratulations to Kathy Collins who was this weeks winner of Split the Bucket going home with €327. The next draw will take place on Monday 25th September 2023. Envelopes can be purchased at Brown Joes, Dick Whites, Collins Shop, O'Riordans Pharmacy, Batts, Athea Credit Union, Bingo at Con Colbert Hall on Friday Nights, Moloneys Daybreak Carrigkerry and during events at Pairc na nGael. Thanks to everyone for your continued support.
Condolences:
Athea GAA wishes to offer our sincere condolences to all the Quaid Family, Dirreen on the very said passing of Michael Quaid, Kildare and Athea. May he rest in peace.
U12 Girls:
Well done to our u12's on a great performance against ABK last Friday night. The girls skill level and determination was a joy to watch. Thanks to Askeaton / Ballysteen / Kilcornan for a great game of football
U14 semi final Girls:
Best of luck to our u14's who play Cappagh in the county semi final next Sunday 17th September in Cappagh at 1
Ladies Junior championship Round 4:
Athea v's St Ailbes
In Athea
Sunday 17th September
At 11 am
U17 Boys:
Athea/Glin/Gerald Griffins 2-09
Newcastle West 1-12
After a 19 point defeat to Kildimo/Pallaskenry a month ago. The Gaels were back in action for their second round fixture vs Newcastle West in Ballyhahill on Monday evening.
The Gaels started off strong with 2 goals by Jack Sexton and Donnach Daly to make it 2-00 to 0-00 in the first 3 minutes. But it wasn't long before the visitors got there team on the scoreboard scoring back to back points. There was a standout performance from free taker and midfielder Evan Curry who scored 4 points in the first half and 5 points the whole game. But Curry's points scoring was still not enough as NCW hit back with a goal and 6 points the bring the game to only 2 points with the score being 2-05 to 1-06 in favour of The Gaels at half time.
Once again the home side were in full swing coming out onto the field in the second half scoring 2 early points to extend their lead by 4 points. But it was NCW who had the better second half as they scored 3 points on the trot bring it to only a one score game
That only lasted a couple of minutes as Daly scored his first point of the game to give The Gaels a 2 point lead with only 10 minutes left to play. However NCW scored another 3 points back to back to give them the lead for the first time in the game.
In the dying seconds of the game The Gaels get a free kick were it Is caught by Daly and it is kicked with the outside of the boot and over the bar to give The Gaels a well-played draw as Michael Butler blew the final whistle.
Next up for Athea/Gerald Griffins/Glin is Adare on Wednesday 20th of September after The Gaels were handed a W/O from Granagh Ballingarry Croom.
Athea/Gerald Griffins/Glin: T.Ahern, L.Buckley, J.Collins, S. Toomey, R. Cleary, J. Hunt, A. Healy, E. Curry, T Ahern, S. Mchenery, J. Sexton, D. Daly, J. Ahern, C. Fitz, J.Adams
Áth an tSléibhe – Coiste na nÓg –12ú Meán Fómhair 2023:
Traenáil Peile Buachaillí & Cailíní: Boys & Girls Football Training Nursery,U7,U9 & U11 – Dé hAoine (Friday) @ 6.30pm Newcomers welcome, please come and try out.
Traenáil Peile Buachaillí: Boys Football Training U13 – Dé Luain (Monday) @ 6.30pm
U15 – Dé Céadaoin (Wednesday) @ 7pm in Athea & Dé hAoine (Friday) @ 7pm in Glin U17 – Dé Céadaoin (Wednesday) @ 7pm in Glin & Dé hAoine (Friday) @ 8pm in Athea Traenáil Iomána Buachaillí & Cailíní: Boys & Girls Hurling Training: Nursery, U7 & U9 – Dé Domhnaigh (Sunday) @ 10am U11 – Dé Domhnaigh (Sunday) @ 10am and Dé Céadaoin (Wednesday) @ 7pm Newcomers welcome, please come and try out Limited number of Helmet and Hurley's available for newcomers for first few weeks. Traenáil Iomána Buachaillí: Boys Hurling Training: U13 – Dé Domhnaigh (Sunday) @ 10am and Dé Céadaoin (Wednesday) @ 7pm Tabhair leat sciatha Guma agus uisce le do thoil. Please bring Gum shields and water. Ballraíocht: Membership: Membership for all Coiste Na Nog members (Nursery to U 17) needs to be paid ASAP. Torthaí Results: U13 Football
Division 3 County Semi-Final:
Athea 1:11 Monaleen 2:03.
We travelled to Mick Neville Park in Rathkeale last Thursday evening for our County Semi Final on a very warm evening. A large crowd of supporters travelled from Athea adding to the occasion. We started the game very well, dominating possession around the middle of the field however after 10min we had only 2 points to show for our efforts and 5 wides. Monaleen made a few changes and scored 1:01 in quick succession with both teams trading scores before half-time leaving the sides level 5 points to 1:02 at the break. Athea again started the second half strongly, scoring directly from the throw-in. Monaleen's first attack of the second half yielded another goal for them leaving us 2 points down. Athea regrouped quickly following the goal, winning the subsequent kick-out and scoring a point following a free-flowing move. We now started to dominate all over the field with Tony Ambrose leading from the fullback line, our defensive trio of Paddy, Jack & Tadhg rampaging forward at every opportunity and our inside forward line looking dangerous with every possession. After our half back-line turned over another Monaleen attack, the ball was moved quickly through the hands to Aaron Hunt who used his pace and skill to drive forward and send a bullet of a shot to the back of the net. Conor Leach who came on just after half-time was growing into the game winning some vital possessions and kicked the score of the game from way out on the left with the roar from the crowd heard back in Athea. A young Monaleen team to their credit never gave up and both teams exchanged points before the final whistle was blown. Athea had great performances through-out the field and their reaction to conceding a goal at the start of the second half was immense.
Panel: Eoin Ahern, Jamie Brosnan, Daniel Broderick, Tony Ambrose, Cathal Fitzgerald, Jack Leahy, Paddy O'Connor, Mark Collins, Daniel Hunt, Tadhg Hunt, Tom Mullane, Aaron Hunt, Joe Scanlon, Aaron Broderick, Shane Ahern, Conor Leach, Se Ahen, Liam Og Reidy, Owen Kenrick, Nathan Ambrose, Oisin McCarthy, John Ahen, Kane Brouder. Cluichí Coiste na seachtaine seo: This week's Coiste fixtures: Monday 11th September U13 Boys Hurling – Athea V Claughaun @ 7.15pm (Division 4 Shield Semi-Final) Tuesday 12th September U11 Boys & Girls Football – Athea V Monagea @ 6.45p