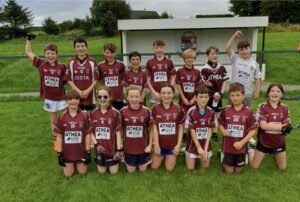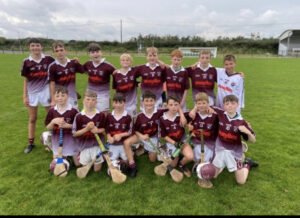 Athea GAA Club Notes:
Split the Bucket:
Congratulations to Tony Brady Upper Athea who was last week's Split the Bucket winner, going home with €279.50. The next draw will take place on Monday August 28th. Envelopes can be purchased at Brown Joes, Dick Whites, Collins Shop, O' Riordan's Pharmacy, Batts , Athea Credit Union, Bingo at Con Colbert Hall on Friday nights, Moloney's Daybreak, Carrigkerry, and during events at Pairc na nGael. Thanks to everyone for your continued support.
Club Development Draw:
Tickets are still on Sale for the Athea GAA Club Development Draw. This year, the top prize each month will be an amazing €1,000! Total prize fund is €7,200. Funds raised from this draw will go towards Development Projects including improvements to the carpark and training pitches. Tickets are priced at €50 and can be purchased from any of our sellers, or online through Club Force. The link for Club Force is on our social media pages. Online sales closes Friday 25th August.
U17 Hurling:
Well done to the Athea boys who were on the Templeglantine team that had a hard fought win over Askeaton last Wednesday. They were Ciaran Hunt, James Hunt, Jack Sexton, Jamie Collins and Jamie O Mahony.
County Final:
Athea GAA club hosted the county U19 premier football final on Tuesday last, between Newcastle West and Fr caseys, with Newcastle west coming out on top. A large crowd attended and thanks to all those who helped to ensure the event ran smoothly.
Athea Junior Men's Team:
Junior Championship Round 3 V Feenagh Kilmeedy
In Foynes 18/08/23
We played Feenagh Kilmeedy in Foynes on Friday night in what was a vital game in determining whether or not we could qualify for a semi final this year. There were a few changes from the last time out with Colin Brouder starting in goals for the injured Kieran Hartnett. Eoin O'Shea was also unavailable this week. We did however welcome back Denis Greaney, available for the first time this year. We started well. Shane Mulvihill and Sean Ryan with two early points in extremely tough weather conditions. We were holding possession well and playing the ball well into the forwards. We were also working very hard out of possession. Kevin Murphy added our third point before Feenagh Kilmeedy got their first score of the day. Shane Mulvihill then scored a massive point putting all of his knee worries behind him. Colin then made a great save, with Feenagh Kilmeedy scoring from the resulting 45. We traded scores then as Denis Greaney got on the score sheet with an impressive point. We led 0-05 to 0-03 at half time. A poor start to the second half however would be our undoing. Feenagh Kilmeedy raced into a 1-06 to 0-05 lead. We never really recovered despite points from Mark Reidy and Andrew O'Riordan before the end. We did not get the result the first half performance deserved. We play Newcastle
West next Friday night looking for our first win of the year. Team.
Colin Brouder, Micheal Dalton, Martin Chawke, Tommy Quaid, David O'Connor, Alan Kelly, Shane Mulvihill, Michael Tierney, Dylan Griffin, T.J Hunt, Kevin Murphy, Darren Murphy, Denis Greaney, Andrew O'Riordan and Sean Ryan.
Subs used : Mark Reidy, Jack O'Connor and Gerard Ahern.
Athea Juniors Ladies Team:
The ladies championship started last Sunday in sunny Ahane. Over the last number of years there has been little to separate these sides and Sunday was no different. It was all level at half time with just 3 pts a piece but Athea playing with a strong breeze settled quicker and registered a number of well worked scores. Ahane never gave up and kept the pressure on till the final whistle
Well done to all the girls and management team of Mike Reidy, Liz O' Sullivan and David O' Connor. Special mention to Grace Hunt, Isabelle Barrett and Brid Hunt who made their debut for the adult team, all making a great contribution.
Their next round of championship is against Groody Gaels in Athea 7pm Tuesday 29th August in Athea. Team: Sarah O' Connor, Katie Bryne, Amy Ryan, Isabelle Barrett, Rebekah Daly, Grace Ryan, Carla Sheehy, Grace Hunt, Michelle Curtin, Molly Ahern, Aoife Curtin, Rebecca Collins, Jackie Stackpoole, Mary Ita Casey, Noelle Curtin, Ciara Hunt, Brid Hunt.
U16 Ladies:
Our U16's play Monagea in a challenge match on Wednesday night in preparation for their semi final on 31st August.
U14 Ladies:
Well done to our U14's who had a comprehensive win over Croom last Wednesday night. Well done to the girls and management team of Mary Hunt, Stephen O' Rourke and David Murphy. Their next competitive game will be against Drom / Broadford
U12 Ladies:
Our U12's play Cappagh in Athea Friday 25th August at 7.30. Best of luck girls
Áth an tSléibhe – Coiste na nÓg –22ú Lúnasa 2023
Torthaí
Results:
U11 Football
Our U11 football team kicked off phase II of the Go-Games league on Tuesday evening last in Mountcollins. We enjoyed an excellent evening's entertainment with both teams playing some lovely football with some excellent scores from both sides and fantastic defending. The game was competitive through-out with all players getting plenty of game time.
Panel: Noah Nash, Rory Carmody, Jontie Weilding, Oisin McCarthy, Nathan Ambrose, Joshie Weilding,Oran Hayes, Colton Brouder, Niamh Hickey, Julitte Nash, Aine Ahern, Anna Murphy, Tiarnan Fitzgerald,James Kelly, Ella Collins.
Our next match is away to Shannon Gaels on Tuesday August 29th at 6:45pm.
U13 Football
Our Division 3A playoff to establish who finishes 1st & 2nd in our group is confirmed 7pm this Thursday evening August 24th in Athea against Monagea. Following this game details of the County Semi-Final will be confirmed.
U13 Hurling
Athea 1-8 V St Patricks 2-2
We had our last league match on Thursday evening in Athea and what a match. This was a very important match and a win would ensure a place in the Shield Semi Final and the boys did not disappoint. Every player played their hearts out against a strong St Patricks team. All across the field there was some brilliant performances special mention to Kane Brouder and Mark Collins who
were outstanding for Athea. Our next match before the semi final is a play off to determine who we play in the semi-final, this will be against Knockainey in Athea on Sunday 27th August @ 12pm
Team : Eoin Ahern , Tadhg Hunt, Kane Brouder, Nathan Ambrose, Cathal Fitzgerald, Paddy O'Connor, Daniel Hunt, Mark Collins, Jayden Kiely, Aaron Hunt, Se Ahern, Tony Ambrose, Shane Ahern, Jack Leahy , Liam Og Reidy.
Cluichí Coiste na seachtaine seo:
This week's Coiste fixtures:
Tuesday 22nd August
U11 Boys & Girls Hurling – Blackrock v Athea @ 6.45pm
Thursday 24th August
U13 Boys Football – Athea v Monagea @ 7pm
Friday 25th August
U9 Boys & Girls Hurling – Feohanagh/Castlemahon v Athea @ 6.45pm
Saturday 26th August
U7 Boys & Girls Hurling – Monagea/Bruree v Athea @ 10am
Sunday 27th August
U13 Boys Hurling – Athea v Knockainey @ 12pm