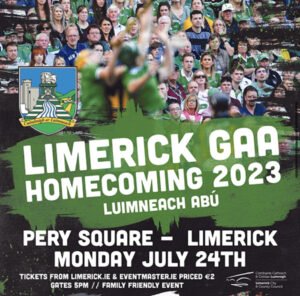 An unforgettable Homecoming celebration is planned for Limerick's mighty four-in-a-row heroes in Limerick city on Monday 24th July:
Limerick's All-Ireland Senior Hurling Champions will be greeted by thousands of supporters when they take to the stage at Pery Square after they secured victory over Kilkenny in a thrilling encounter at Croke Park this afternoon.
It will be a night to remember with a host of live music acts lined up to get the street party started on Monday night.
Hometown rockers Anna's Anchor, exciting young singer songwriter Michael Maloney and star DJ Jen Payne will be warming up the crowd from 6pm.
Limerick GAA in partnership with Limerick City and County Council are inviting supporters to join the family-friendly party and welcome the triumphant Limerick team home.
Limerick Homecoming 2023
The homecoming is an e-ticket-only event with registration now available from Eventmaster.ie.
The ticket price is €2 including all fees. This charge is for the purposes of managing and preparing for the the number of supporters that will attend. Fans are asked to be patient as they log on to get their tickets, which are available on a first come first served basis and can be downloaded onto phones.
In the interests of fairness and allowing as many supporters as possible to get tickets, they will be limited to six tickets per transaction.
Supporters will not gain entry without a ticket so please do not attend unless you have secured yours in advance.
Gates will open at 5pm with entertainment, beginning shortly afterwards.
Limerick's own Liam Ahern will MC the family friendly Homecoming event in Pery Square.
Alcohol consumption will not be permitted and there will be bag searches on entry.
Details of road closures and car parking restrictions: Temporary Closure of Roads: Barrington Street, Pery Square, Pery Street | Limerick.ie