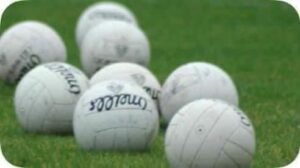 All-Ireland club SFC semi-finals
Kilmacud Crokes (Dublin) v Kerins O'Rahilly's (Kerry) in Croke Park at 1.30pm (TG4)
Referee: Niall Cullen (Fermanagh)
You can only admire the character of this Kilmacud Crokes team. They were surely devastated by the nature of their defeat to Kilcoo in last year's All-Ireland Final, and yet here they are again just one win away from making it back to the same stage.
They come into this match after an imperious run through Leinster that saw them defeat Naas, Portarlington, and The Downs by a cumulative total of 27 points.
All of those opponents were highly regarded in their own right, which is a testament to the quality of the Dublin champions.
This will be their third match in a row at headquarters which must give them some small advantage over Kerins O'Rahilly's, but much more relevant is the fact their form seems to be on a sharp upward curve.
Shane Walsh has played a big part in that. His sheer individual quality meant he was always going to improve this Kilmacud team, but what was most notable through the Leinster campaign was how his team-mates have become more and more in-tune with the mercurial Galway star.
They've always been a superbly organised team that plays to a defined pattern, but now they're getting better all the time at stitching Walsh's finishing power into the game-plan.
The Dublin champions apply ferocious pressure when they don't have the ball and when they then turn over possession they counter-attack at breathtaking pace, so this looks like a seriously tough test for Kerry and Munster champions Kerins O'Rahillys.
They're a team of no little ability themselves though and plenty of character too as evidenced by the fact they've won their last three games against Templenoe in the Kerry Club Final and Éire Óg and Newcastle West in Munster by a single point.
If the Kerry side are to pull off a shock they need to at least break even in the middle third so David Moran can get his head up and angle in those trademark deliveries to Tommy Walsh on the edge of the square.
That would allow them to by-pass the Crokes defensive swarm and maybe even give them a route to victory.
Maigh Cuillin (Galway) v Glen (Derry) in Croke Park at 3.30pm (TG4)
Referee: David Gough (Meath)
This match has all the ingredients to be a classic. Both teams have displayed very impressive form enroute and there should also be a clash of styles that should add to the occasion.
Galway and Connacht champions Maigh Cuillin play a more expansive brand of football with a greater emphasis on kick-passing, whereas Glen are more careful with possession and both defend and attack brilliantly as a team.
Which team will be able to better implement their brand of football? The odds slightly favour Glen, but such is the quality of a Maigh Cuillin team that includes seven Galway panelists it wouldn't be a shock at all were they to come out on top instead.
Glen will surely have taken a lot of self-belief from the way they dethroned reigning All-Ireland champions, Kilcoo, in the Ulster Final.
The physical intensity they brought to bear in that match was something special, particularly around the middle third of the pitch where their midfield partnership of Conor Glass and Emmet Bradley is arguably the best left in the competition.
Curbing the influence of that duo will be key for Maigh Cuillin, so perhaps Peter Cooke will drop a little deeper than we've seen heretofore.
In a match of very fine margins this game could come down to whichever team's most reliable score-getter has the better day.
Both Maigh Cuillin's Dessie Conneely and Glen's Danny Tallon had relatively quiet provincial finals by their high standards. A man of the match performance from either would be telling on Sunday.