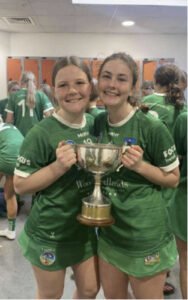 Mungret/StPauls GAA Club Notes:
Limerick Players:
Unfortunately the U-20 Limerick Footballers lost out to Cork in the Munster Semi Finals Monday night. Well done to our club players Frank Corcoran, Jack McCarthy, Ciaran Uwatse, Oisin Moss and James Killian who are on the panel.
Congratulations to the Limerick Minor Football team on their 4-06 to 0-15 win over Clare on Thursday 20 April in the Championship. Mungret St. Pauls are delighted to have Darragh Hogan and Rory Mullins on the panel for the match with Kevin Morrow on the extended panel.
Congratulations to the Limerick Minor Hurlers on their win against Tipperary that guarantees them a place in the top three of the Munster MHC. Well done to Mungret St. Pauls players Sean Duff and Conor Crowley who are on the panel.
A great come back for the U-20 Hurlers in the Semi Final against Tipperary in the Munster GAA Championship in FBD Semple Stadium on Friday 21 April but unfortunately it was just a little too shy to go onto the Final. Well done to Diarmuid Mullins and his backroom staff, Mungret St. Pauls are delighted to have Barry Duff, Fintan Fitzgerald, Liam Lynch and Billy Molyneaux on the panel.
Well done to the following U16 County players who played for Limerick at the weekend Sarah Horgan, Rachel Somers, Grace Morgan, Anna Coughlan, Jillian Buckley, Caoimhe Hennessey, Molly O Mahony,Cameryn Moloney and Liz Morgan (Management).
On Easter Monday, 10th April, History was made by the Limerick Camogie U16 panel when they won the Munster U16A Championship in Mallow – The first win ever for Limerick! #MSPCamogies Jayne Casey, Sarah Horgan and Molly Tobin are now firmly a part of this amazing feat along with their teamates having put away a strong Cork team! A mention must also go to Mungret Clubman Brian Tobin who is involved in the Management of this great team.
The Limerick Minor Team played Clare on Sunday 16th April in the 5th Round of the Electric Ireland All Ireland Minor A shield. Supporters headed to Kilmallock to cheer on #MSPCamogies Amy O'Halloran and her teammates as they took on their neighbours. It proved a very entertaining match, with Limerick 8 points down at half time, but they fought hard in the second half and got well back into the game.
Well done to all players who played in Limerick Hurling academies on Saturday 22 April 2022. Mungret St Paul's are delighted to have players on each team. U-14 Ruairí Dwane, U-15 Rory Gleeson, Killian Begley, Oisin Donnelly and Rory O'Callaghan, U-16 James Flemming, Alan Browne is part of the U-15 management. Well done all Mungret St. Pauls are delighted to have you representing us.
U-15 Football:
On Monday 17 April 2023 Mungret St. Pauls had two teams out in the U-15 Football group. The Division 1 team were in Ahane where they started very strong and were 7 points to one goal at half time, the goal for Ahane came from a penalty. The second half saw our players drop their game a bit and Ahane crept back in, Mungret St. Pauls went 2 points down before they pushed on again and squeezed in a two point win before the final whistle.
Mungret St. Pauls 0-12 Ahane 3-1.
The division 3 team were in the Crescent Comprehensive pitch where they played near neighbours South Liberties, this was a tighter game with both sides fighting for the lead, Mungret St. Pauls were ahead by half time by one point but back into the second half South Liberties put our backs under pressure and with a few minutes left on the clock Mungret St. Pauls were three points down but a ball into the right hands saw it into the back of the South Liberties net before the full time whistle leaving the game a draw.
Mungret St. Pauls 4-2 South Liberties 3-5
Ladies Football:
Many thanks to Kevin Deasy and AccountingPro for his generous donation of bibs and cones to the eager bunch of u8 footballers.
Well done to the Junior Team in their first outing of the season, they played Oola at home on Sunday last and came away with the victory. Mungret 3.14 Oola 4.08.
The Senior team played away to Ballylanders. Mungret 1.07 Ballanders 1.09.
The 2 u16 teams both played at home on Monday evening, unfortunately both were defeated by Adare and GalteeGaels
Camogie Feile:
Always a weekend to look forward to, our U15 team, Management & Supporters headed to Cappamore for a mighty day of camogie on Sat 15th April.
There, they met Monaleen, Adare and Blackrock effin during the course of the day, awarding them a place in the semi-finals v a strong Granagh Ballingarry.
It really was nail biting stuff, going to extra time, but Mungret came away with the win. (not before Captain Amy Baggott pulled off a fantastic last minute penalty save!)
On Sun 16th a sunny Killeedy hosted the Division 2 final where Mungret played Monaleen. Our girls put in a huge effort in the heat, battled hard to the end, but unfortunately Monaleen came away with the win. We are incredibly proud of each and every player on this young team. Keep up the great work!
Camogie Easter Camp:
Day 1: Someone once said "There's no such thing as bad weather, just soft people" but they had clearly never met the Girls of #MSPCamogie
Each and every girl, from U8s up to U14s skipped in the gates on day 1 not knowing what lay ahead with the weather forecast, but by god they leaned into it!
Guest Coaches included Limerick Camogie's Cliodhna Ryan, LimerickGAAs Cathal O'Neill as well as Shaun Barry and Sean Long who added their wealth of expertise to the day.
There was some great support from our Junior Coaches also in the form of Cliona, Dearbhail, Sarah, Jayne, Aoife, Amy, Ellie, Niamh, Clodagh, Grace, Tadhg and Evan.
Day 2: Unfortunatley the weather took an turn on Tuesday afternoon and the pitches were closed with immediate effect which meant camp had to be cancelled.
Day 3: Whoever put the Child of Prague out on the Wednesday night – we thank you! Because the weather was SCORCIO SCORCHIO for the last day of camp, at the new location of UL Sport!
Shaun Barry and Sean Long returned for the last day (it's always a good sign when they come back) as well as new guest coach, Limerick Camogie Senior Player Teresa Dore who had big boots to fill following Tuesdays Cathal O'Neill and Cliodhna Ryans visit! They kept our 3 groups of U12s/13s & 14s on their toes for the day with some fantastic challenges!
Our team of camogie club coaching volunteers drove the 5 groups of U8s/U10s & U11s and deserve a big thanks. There isn't an activity that wasn't covered!!
Alan Browne, who coordinated the camp, was joined by the aforementioned Junior Coaches as well as resident Camogie Coaches Grainne Kelly, Eimear Neilan, Colin Kenny, Clodagh Reaboi & Geraldine McInerney – We are the sum of all our parts.
Thanks to COBI Sports for the fantastic gear as always! Andre Reaboi also for popping in and taking some pictures for us and to Happy Dough Lucky who supplied lunch – we won't need to eat for a week!!!!
They say little girls are made of sugar, spice and all things nice? Not this crew, this crew are made of bruised knees, mucky boots, love of camogie, friends for life – and isn't it great to see!!
#CantSeeCantBe?
These girls ARE seeing and ARE being – and there's no stopping them.
Keep in girls – yer FLYING and while yer at it, keep her lit!
U16 Camogie:
Our U16s had a great win in the leagueon Wednesday 12th April v Ballybrown Camogie Club in the Crescent Comp in very windy conditions! Well done girls! Final Result: MSPCamogie: 3-08 Ballybrown: 1-5
U12 Camogie:
Our U12s welcomed Monaleen Camogie for the first round of the county leagues om Sunday morning to finish off the jam packed easter break! Great performance from both teams, the future is very bright!
U-13 Football:
Mungret St. Pauls 0-8 Monaleen 3-7
On Wednesday 19 April 2023 our U-13 footballers took on Monaleen in Mungret in their first round match where they knew they would have a tough battle and Monaleen did not disappoint as they got stuck in straight away. Mungret St. Pauls held up well against Monaleen as they took their chances when they could. Monaleen hit the net in the first half which hit the score board hard for our players as they struggled to get past the strong Monaleen defence. Half time score saw only two points separating the two sides 0-4 to 1-3.
In the second half unfortunately one of our players had to be substituted due to an injury, we wish him well on a quick recovery. Mungret St. Pauls kept up their work rate but Monaleen hit hard two more times as they raised the green flag. It was a tough loss for our players but it was only the first match against one of the stronger teams, their wins will come. They are out next away to Pallasgreen on May 4.
U-13 Football:
Mungret St Pauls 1-8 Na Piarsaigh 3-1
It was a great day for U-13 Division 3 football on Thursday 20 April when Na Piarsaigh arrived in force to Mungret. This was our younger 12 year old players who put in some fantastic work on the pitch in their first league match. Mungret St. Pauls lead most of the way. At half time it was a level game after Na Piarsaigh netted their first goal to give them a goal and a point to Mungret St. Pauls four points. The second half Mungret St. Pauls defence marked the Na Piarsaighs shooters tight, they only managed another two goals while Mungret St. Pauls kept taking their points and secured their own goal, they held on and won by one point. This was the official finish score but with thanks to the referee on the night he agreed to play a second game so all subs got a good run as the played on another ten minutes a side game. The next game for this team is on May 4 when they play Bruff in Bruff.
Junior A Football:
Mungret St Pauls 5-15 Bruff 1-3
In Bruff on Thursday 20 April 2023 our Junior A footballers overpowered Bruff in a one sided game. This gives them their third win leaving them top of the South East Intermediate Football League table with two more games to play. Nest match is not until May 13 when they play Croom at home.
Intermediate Football:
Mungret St. Pauls 2-11 Claughaun 0-10
There was home advantage on Saturday 22 April 2023 when our Intermediate Footballers took on Claughaun. This was a great game for both sides. Claughaun had a three point lead before the first ten minutes of the game but Mungret St. Pauls goal levelled the game, a second goal going into the second quarter of the game pushed Mungret St. Pauls ahead. By the half time whistle Mungret St. Pauls had a three point lead. The second half was a better game for us as the scores kept coming and Claughaun struggled to get many more balls on target, Mungret St. Pauls ran out convincing winners with seven points. This second win from three games leave us currently in second place, the next outing for the intermediate Footballers is in Caherdavin against Na Piarsaigh on May 13.
Junior A Football:
Mungret St. Pauls 0-4 Castletown Ballyagran 0-6
On Saturday 22 April 2023 in Ballyagran our Junior B Footballers had a tight game as they played an equally strong team. It was a low scoring game where every point counted as the ball was bounced up and down the pitch. Mungret St. Pauls were unlucky to not get the score on a few occasions but they still have two more games to play as they sit in the middle of the league table. They play Ballylanders away on May 13.