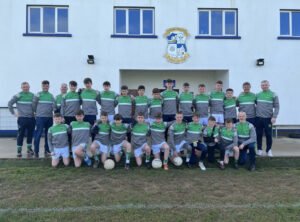 Ballybrown GAA Club Notes:
Easter Camp:
3 Days – Tue 4th – Thur 6th April.
Boys and girls 6-13 yrs WELCOME
TIMES: 9.30 – 1.00pm COST: €40 per child. Register FRIDAY at training.
Members:
Ballybrown GAA club will have 2 junior hurling teams this year. We are looking for a manager and selectors for our second junior team at this point. If you are interested could you contact Gerry +353 87 232 1774. The first game in the league is on 2nd of April
Membership:
membership rates for 2023 is now up on Foireann and available to pay. Find them on this link https://www.foireann.ie/clubs/16e6a332-6dd7-d868-cbc9-26602a611159?#membershipOptions **Should anyone need help with Foireann ring Anne 087 2872853
Feile:
A great morning out in ideal conditions for our Feile team last Saturday morning. Many thanks to hosts Croom GAA Club for having us. Captain for the day was a well deserved Daniel McNamara who is also on the U15 Limerick football panel. Wishing James a speedy recovery with his knee. We finished on a high after our 3 matches with a win and a rousing rendition of Happy birthday to Mark. Many thanks to Maurice Histon Regional Oil, Francis McCarthy – H & F Electrical, Patrick McCarthy- PMC Drains & TJ Toomey – Toomey Electrical for their very generous sponsorship to kit the boys out in their Feile gear. Please support these local companies where you can.
Con & Annie Kirby Memorial:
Next week sees "Singalong Eimear" in Heat 1 Trap 1
Please come along to support. Contact Richie Quinn for a limited number of passes.
Huge:
Congratulations to all involved from the Club winning the First year County final last week with Salesian Secondary College
U21 Medal Presentation:
A super night tonight at the presentation of the U21 County medals. Pat Gavin, Chairman welcomed everybody to the club and thanks the lads and coaches for their time and commitment. He especially mentioned everyone who had coached these lads from Under 8/10 up, success didn't just happen in the last couple of years.
We had a number of speakers starting with the team manager Roddy Burke . Roddy commended the lads on a Glittering underage career. With credit to the club, families and the lads themselves. As Pat said each coach up along contributed. The one word of advise now is to Stick together now out of underage
Next up was Seamus McNamara County Board Chairman. Seamus was Delighted to be invited and said he will always accept an invitation extended to him from Ballybrown. Winning premier titles isn't easy he said. He too said it comes from all in the club committees, volunteers, parents- everyone behind the scene. The Trick now is to take it another step, you are well capable of winning a senior county title in next few years. You already have Colin and Aidan on the county ladder. TJ Ryan here tonight can teach you a thing or two along with Joe O'Connor. He wished the club well especially the development plan. Your a wonderful club keep it going. And finally he said Thank you for the support Ballybrown gave to him as chairman.
TJ Ryan said he was overawed to be here. He loves coming to a place who are county champions. It is so Important to celebrate these milestones. Our clubs (Garryspillane) have a lot in common – we are chasing one another for titles. My first memory of Munster club hurling is Ballybrown in 1989.
He is Delighted to see Aidan and Collin to kick on . It's not easy win titles and keep young fellas going. It's just a hobby, you're doing it for love of it and the love of your club. Your ambition now has to be to follow your peers and win a county title and Munster. The Senior landscape is changing- it is there for clubs like Ballybrown to come on and win a title – knock other clubs off. Use the momentum from winning Minor and U21. TJ said he shouldered with Joe O'Connor – I hated marking him. We weren't made for the gym – we were made for speed . Tom Ryan got a special mention too. He said Tom is mad but I got him and he was very good to me and gave me a start. I was afraid of him – only him and my father in life I was afraid of. Tom was A bit of a psychologist – got the best out of us. Jimmy Hartigan was county secretary at time TJ was involved at County and got another special mention – " he was so good to me and to show us the ropes"
Pat davoren is doing good work at underage – he's striving big and working hard to make the system better
TJ wished the two boys in limerick well. It's the time of your lives – enjoy it. Back in club be ready for and do everything needed. The time goes too quick.
His one bit of Advise- I'd buy your youth if I could – give it everything
Ross Kenny was last but not least by any means. Pat introduced him as a great team leader . Ross said it was great to be here and have the support even 4 months after the match. He thanked all who helped set up the medal presentation " I had time my life playing. 21 is not job done we have years to go"
STAFF WANTED for the Clubhouse Bar. Contact Catherine in the bar or send your CV to catherinehall1998@yahoo.ie
Bar Opening Hours:
Monday to Thursday- 8p.m to 11.30 p.m. Friday 7p.m. To 12.30 p.m.
Saturday 6p.m to 12.30 p.m. (subject to change dependent on sporting fixtures). Sun 6p.m. to 11p.m (subject to change dependent on sporting fixtures)
Lotto:
Lotto on Monday 20th March-16,21,23,29 B19 Next Week's Jackpot is €3,400. Be sure to get your tickets from The Clubhouse Bar, Hayes or local sellers.
Club Jerseys:
NEW updated Club jerseys will be available to purchase through O'Neills NOW.
CLUB Limerick:
The Club Limerick Draw continues in 2023. There are 14 prizes in the draw, the top prize being €10K. By joining this draw, you are also contributing to Ballybrown Gaa Club so check out https://clublimerick.ie/draw
Keep in Touch:
With us on Facebook: https://www.facebook.com/324869034297818/photos/885117041606345/ Twitter: BALLYBROWN@Bailebrun2014 E-Mail: Pro.ballybrown.limerick@gaa.ie or WEBSITE: www.ballybrowngaa.com