Down Memory Lane: One of the greatest ever full backs
April 29, 2020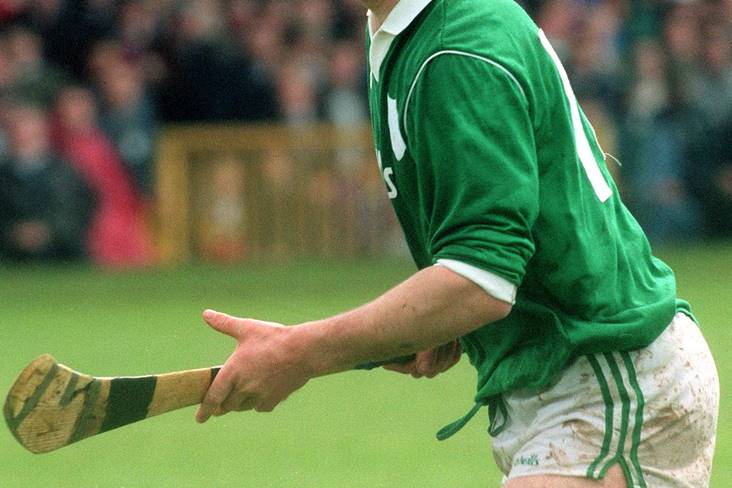 Limerick hurling legend Pat Hartigan has no regrets about his career.
Taken from Hogan Stand magazine 2nd December 1994
Limerick's outstanding full back Pat Hartigan was hugely disappointed but holds no bitterness after that horrific eye injury
There is no faster or more skilful field game on this earth than hurling, when the exponents of the art know what they're doing. What a sight it is two men whipping on the sliothar, shoulder to shoulder, the clash of the ash as they strive to double on it in the air, the one touch, the grounds strokes, the control you could go on forever. Unfortunately however, like all contact sports, the possibility and indeed probably of injury exists.
Some injuries are worse than others but scarcely can there be more horrific one than an eye injury. Some of the finest stickmen to have graced the game have had their careers curtailed by such a blow. One of these is Pat Hartigan (44), full back on the Limerick side that won the All-Ireland in 1973. It might reasonably be expected that there would be an element of bitterness at being so carefully prevented from doing something you love but there is no trace of that here, although the Sales Manager at Grassland Fertilisers is understandably disappointed.
"I lost the sight in my eye in 1979. It was a blow as I was in the top of my game even though I had 11 years of playing with the county. It happened in training before the Munster Final. Interestingly I remember travelling with friends from San Francisco the day before and telling them I had a premonition that my career was coming to an end they heard about the injury on the radio the next day! Only withdrawing on the Friday before the Munster final was a mistake – it was much too late".
"I had no judgement of distance or depth expecting the ball to land in front of me and it ending 10 yard away. On the Wednesday before the final I was pucking a ball with Noel Drumgoole and doing grand until he mis-hit one. I expected it to come to me but it landed 30 yards away. That was it then. Limerick got beaten and I went to the States and throughout Europe looking for a cure but nobody could do anything. The problem couldn't be treated. If those Micro helmets were out then I'd have just got one and carried on playing. That's what I'd say to anyone who gets into an injury now. Get the helmet and play away".
"I lined out with the Liberties in 1980 and got an injury in the good eye in the county final. I went to block and because of the lack of judgement missed. The eye closed and it meant two days out of work. I made the decision then to retire. I felt there were four or five years more in me. Limerick won two more Munsters in '80 and '81, immediately after my retirement. We would arguably have won both All-Irelands had I been fit but that's just guessing. It was a real sickener seeing them go so close and not being there to do anything about it."
At least the Drumbane native, who is now a resident of Corbally with his wife Kate and daughters Sally Ann (14) and Faye (11), had the highlight of 1973. "It was a highlight it wasn't THE highlight! There were some great days with my club South Liberties with whom I won three counties in 1972, '76 and '78. Eamonn Grimes, Joe McKenna and Mike Grimes played on those teams. There is a great depth of talent in the club and I have great satisfaction from our successes. After retiring I got involved at underage level and coached the under 16 team that won the 1981 County Championship. That was a tremendous thrill.
"Having said that it was great to win the All-Ireland. We played beyond ourselves that day against Kilkenny. Eamonn Cregan's positioning at centre back was the winning of the match. He had been at corner forward throughout the season and doing well there but Jim O'Donnell, our regular No. 6 had a hand injury so the selectors decide to put Eamonn there and he was outstanding. He had stabilising effect and it rubbed off everyone. The defence was tremendous that day. Remembering that it was an 80 minute final and we were up against arguably the strongest forward line in the history of the game, the equivalent of the Kerry football forwards, conceding 1-14 was a fantastic performance by the defence".
Pat opines that Limerick should have won more than one All-Ireland and says that complacency was at fault in 1974. His own displays at that time were always top notch and this was acknowledged by him receiving five consecutive All-Stars from 1971 – '75 inclusive, with the '73 one being automatic. He was also a regular on Railway Cup teams and was on four losing sides in a row before proving victorious in '76 and again in '78, with another defeat sandwiched in between. Another occasion Pat recalls with fondness is winning the re-launched Puc Fada competition in the Cooley Mountains in 1981.
"That was a tremendous thrill to tog out with a hurley in my hand again and to win an All-Ireland title something I though I could never achieve again. That was one of the highlights of my life. Athletics has also proved a big help to be able to go back to the shot-putting was great. I won a number of Championships and was captain of the Limerick team that won the National Athletic League Track and Field title in 1983. That qualified us to compete in Milan for the European club Championships. Again that was a form of compensation for me for not being able to play Limerick. Pat Hartigan is a man with no regrets and looks to the future of Limerick hurling with just an ambition. Which is? "To see Limerick win the All-Ireland hurling title under Tom Ryan".
No regrets? "None at all. I wouldn't change anything. In fact, I would do it all twofold. What really pleases me most above all else though, is that I can put my hand on my heart and say I gave it 200%. There's great satisfaction to be got from that".