Awards keep coming for McCaffrey and Hayes as PwC launch new All-Stars app
September 26, 2018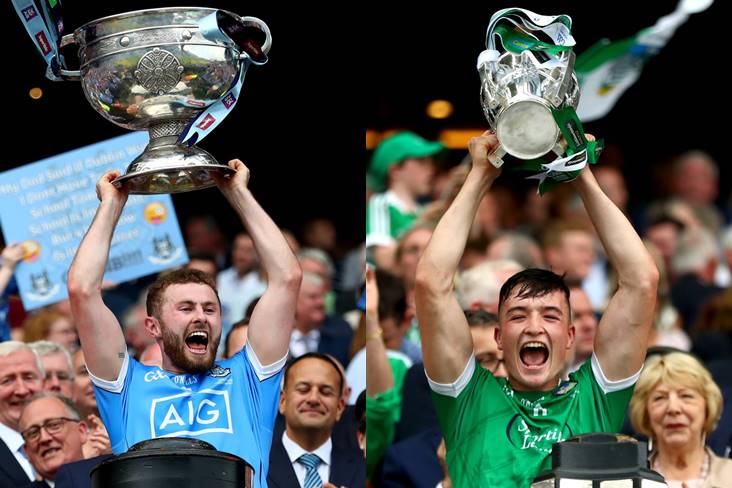 Dublin's Jack McCaffrey and Kyle Hayes of Limerick.
Having been selected as RTE's 'man-of-the-match' in their respective finals, Dublin's Jack McCaffrey and Limerick's Kyle Hayes have been chosen as the GAA/GPA Players of the finals.
PwC has further enhanced its sponsorship of the PwC All-Stars with the development of a new app dedicated to the awards which was officially launched by Uachtarán Chumann Lúthcleas Gael, John Horan today.
The PwC All-Stars App will allow GAA fans and the Gaelic games media to keep right up to date with all the latest All-Stars related news while also providing a comprehensive archive of all All-Stars teams from the awards' inception in 1971.
The PwC All-Stars App will be available to download later this week from the App Store and Google Play Store.
The PwC All-Stars App is the only app you will need for official PwC All-Stars news and updates, All-Stars teams from previous years and trivia on all previous All-Stars winners.
GAA fans will also be able to choose their PwC All-Stars selection in hurling and football and compare their teams with their friends' selections and the official PwC All-Stars teams.
Fans can also test their PwC All-Stars knowledge with our PwC All-Stars quiz to be in with a chance of winning some great prizes.
PwC GAA/GPA Players of the All-Ireland Finals in football, Jack McCaffrey (Dublin), and hurler, Kyle Hayes (Limerick), were also on hand to help with the launch and pick up their respective awards. Aaron Gillane was also in attendance to receive his hurling award for August.
As an integral part of Dublin's four-in-a-row team, McCaffrey put in an outstanding performance in the All-Ireland Final against Tyrone underlining his emphatic return from serious injury which he sustained in the 2017 All-Ireland final. He picked up the Man-of-the-Match award and his performances this season have also seen him nominated for a PwC All-Star and the PwC Footballer of the Year.
Kyle Hayes meanwhile, produced a match-winning performance to lead his Limerick side to their first All-Ireland Hurling title since 1973.  He was the hurling final's Man-of-the-Match.  He was also nominated for a PwC All-Star and the PwC Young hurler of the Year.
GAA President John Horan commented: "This is another sign of PwC's commitment to making the PwC All-Stars a central part of the GAA calendar.  Since coming on board as sponsor they have made every effort to make a positive difference and make the awards the best they can be.  To have all the teams from down through the years at our finger tips is an invaluable archive and I'm sure it will prove to be hugely popular among GAA fans.
"I'd like to extend warm congratulations to Jack and Kyle on their awards following outstanding performances in their respective All-Ireland Finals. Through exemplary contributions to their teams, they've both helped in creating a piece of history for their counties. As a result, they are richly deserving winners of these awards."
GPA Chairman Seamus Hickey added: "Huge congratulations to Jack and Kyle for winning the last player of the month award this year, to win the final award of the year is a special achievement that adds to the already stellar success both have enjoyed this year. It's been a fantastic season of football and hurling for both Dublin and Limerick and these two lads were immense in the closing stages of the Championship. To be chosen is testament to all the hard work they've put in not only this month but throughout the whole season. Great effort, well deserved!"