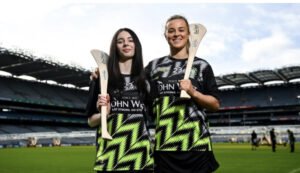 4,000 players all set for John West Féile na nGael finals:
Eighty club sides, including a team from New York, will compete in the John West Féile na nGael National Camogie and Hurling Finals 2023 across seven venues in Connacht this Saturday, June 24.
What has grown to become one of the biggest underage sporting events in Europe will see close to 2,000 camogie players and hurlers descend on the Connacht GAA Centre of Excellence at Bekan, County Mayo as well as County Galway GAA clubs in Ardrahan, Ballinasloe, Ballygar, Caltra, Craughwell and Gort. Roscommon clubs Pádraig Pearses and Oran will also host.
Meanwhile, a hundred teams, comprising over two thousand players, including a side from London, will take part in John West Féile na nGael regional finals taking place at 13 venues across Ireland for teams outside the top division on the same day.
The Féile Peile na nÓg (Gaelic football and ladies' football) national finals take place at the Connacht GAA Centre of Excellence and venues across the province on Saturday, July 1 when regional finals will take place at 17 venues across Ireland.
Throughout its eight-year sponsorship of Féile, John West has focused on the importance of natural nutrition in fuelling young athletes, whilst encouraging children to participate in Gaelic games.
The company earlier this year announced an extension of its Féile sponsorship until 2025.
"The competition brings together not only thousands of under-15 hurlers, camogie players and Gaelic footballers, but also their families and supporters in celebration of the GAA's community ethos," said John West Ireland Head of Marketing, Anne-Claire Monde.
"Developed in partnership with expert dieticians who are key opinion leaders in the nutrition field, our high-quality natural protein products help optimise the physical growth and development of young players.
"Our 'Eat Strong Go Strong' strength and resilience through natural nutrition message is part of a campaign to build awareness among young athletes of how and when to refuel, particularly before and after matches and training.
"Protein is essential to the formation, growth and repair of muscle tissue. A serving of 15-25g of high-quality protein is recommended within three hours of exercise to ensure maximum benefit.
"At John West we are passionate about establishing good nutritional habits among teenagers. Féile gives us the opportunity to highlight the importance of eating good quality natural protein and vitamin D to support an active lifestyle."
Uachtarán CLG, Larry McCarthy, said John West Féile is an integral part of the GAA calendar.
"It nurtures an enthusiasm for our games, where friendships and memories are made," he said.
"Generations have experienced the joy of being a part of Féile na nGael and Féile Peile na nÓg, and I look forward to seeing this tradition continue this year.
"Our thanks to John West for their support in the promotion of this competition and to the national organising committee for their work on John West Féile 2023."
Ladies' Gaelic Football Association President, Mícheál Naughton, highlighted John West Féile's emphasis on fun, friendship and participation.
"Players will make new friends and re-connect with old friends. John West Féile will once again provide young players with lifelong memories."
Hilda Breslin, Uachtarán, The Camogie Association, said John West Féile na nGael is, for many players, their first time to compete in a national competition.
"I hope their experience will be positive, both on and off the field, and pay tribute to the volunteers who make such a valuable contribution to make John West Féile so special."