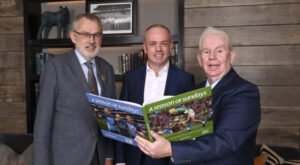 2023 edition of 'A Season of Sundays' launched:
Over the past 27 years, the publication of Sportsfile's A Season of Sundays has become an annual sporting tradition, marking the end of each GAA season with a stunning collection of images.
This year's eagerly anticipated offering looks back at all the highlights of another year to remember and is sponsored by Mazars.
This is the first occasion that Mazars have supported the publication of the book.
The 2023 edition captures the highs and lows of an incredible GAA season with another insightful look back on a season that saw capacity crowds return to GAA stadia.
The high points of another busy calendar year in the life of the GAA are expertly captured by the lenses of the Sportsfile photographers – and enhanced by Alan Milton's perceptive captions – and the year that was 2023 was not short on drama.
Early season All-Ireland crowns were presented to Kilmacud Crokes (football) and Ballyhale Shamrocks (hurling) before inter-county league action assumed centre stage and the usual quota of memorable images were captured along the way.
The onset of provincial championship activity provided the drama and storylines we have to come to expect and no where more than in Munster hurling where the highly competitive nature captivated and enthralled in equal measure.
Pictures say a thousand words and so it is with this collection in the colourful chronicle of the thrills and spills that unfolded in the races for the Sam Maguire and Tailteann Cups in football and likewise in the battles for the Liam MacCarthy, Joe McDonagh, Christy Ring, Nickey Rackard and Lory Meagher cups.
Speaking at the launch, the book's publisher Ray McManus said: "What started out almost three decades ago as a way of capturing the images that defined a season on and off the field, the joy that is producing A Season Sundays is as fresh now as it was in our first year.
"It is our privilege to have a touchline seat on the edge of the action, to be up close to the incredible feats of skill and stamina that are produced and to be able to tell the story of these great games and great players.
"A Season of Sunday's is also about capturing the connection that the games have with the people who make following their county an integral part of their sporting year. Every year there are iconic new faces and new stories, and it is our privilege to be able to capture them and I thank all of the team in Sportsfile for their excellence and commitment.
"I would like to thank the GAA President Larry McCarthy for launching the book and also Tom O'Brien and all at Mazars for their support, without which, the project would not be possible."
Uachtarán Chumann Lúthchleas Gael Labhrás Mac Carthaigh added: "I am delighted to formally launch the 2023 edition of A Season of Sundays and welcome the continuation of this great GAA tradition.
"No GAA publication is more eagerly awaited and that's because what started out 27 years ago as a home for favourite photographs has become an integral part of our season and an institution in its own right. Every year, without fail, A Season of Sundays tells the stories of the highs and lows of our competitions from Castlebar to Clones, from Ruislip to Gaelic Park and from Páirc Uí Chaoimh to Páirc an Chrócaigh and everywhere in between.
"For more years than he cares to remember, Ray McManus has been the photographic historian of the GAA, ably assisted by the talented team at Sportsfile to whom we are indebted for their support of Gaelic Games and commitment to expertly telling the story of our year frame by frame. Not only that, but they also capture in their photo essays the supporters who bring so much life and colour to our games Sunday after Sunday and Season after Season."
Speaking at the announcement of Mazars' sponsorship, Mazars managing partner Tom O'Brien said, "Mazars is delighted to support A Season of Sundays which for many years has perfectly captured all of what is good about the GAA. Mazars has a long-standing relationship with the GAA which dates back over 100 years, so when the opportunity to partner with Ray and his Sportsfile team arose, it was a perfect fit."
An ideal gift for any GAA fan, the book is available at bookstores nationwide and online at www.sportsfile.com and is priced at €29.95.