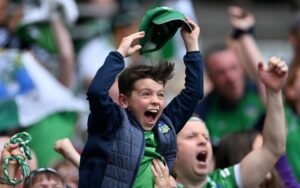 By Jerome O'Connell Limerck Leader Sports
LIMERICK three-in-a-row All-Ireland senior hurling champions has a lovely ring to it!
On Sunday July 17 this Summer, John Kiely's hurling heroes wrote another glorious chapter in the history of Limerick GAA.
Superlatives no longer seem sufficient to describe the current county hurling side, but the statistics and history books illustrate just where this group find themselves after winning the 135th All-Ireland SHC final – champions four times in the five years and in July completed a historic hat-trick of Liam MacCarthy Cup wins.
The final victory over Kilkenny also stretched Limerick's unbeaten run in championship hurling to 16 games.
And, of course en route to retaining the Liam MacCarthy Cup in Croke Park, Limerick won a fourth successive Munster SHC title – something not achieved by the men in green and white since the Mick Mackey era of the 1930's. Indeed it was only right that Limerick were 2022 Munster champions with the new Mick Mackey Cup presented for the first time following the provincial decider epic with Clare in Thurles.
And, all that without the injured 2021 Hurler of the Year CIan Lynch and fellow All-Star Peter Casey.
Declan Hannon too goes into the history books as the first hurler to captain his side to four Liam MacCarthy Cup title wins.
As he prepared to climb the steps of the Hogan Stand in Croke Park, Hannon had injured vice-captain Cian Lynch by his side to accept the trophy from GAA President Larry McCarthy.
Limerick centre forward Kyle Hayes was in no doubt that the final display of his team-mates was a was a performance for Lynch.
"Anyone who knows Ciano personally, he's an absolute gentleman, he's the heart and soul of our team for everything through his ability to his skill and his leadership. He's had such an unfortunate year and that definitely was a performance for him," beamed the centre forward on the Croke Park sidelines.
And, what a final it was.
Certainly not the physical battle many expected, this was score for score, end-to-end with 24 different scorers accounting for 60 scores.
The final was level twice but Limerick were never behind and the impressive responses to two second half goals was key to securing this slice of hurling history.
Brian Cody's side didn't throw in the towel and rallied again with all five substitutes now on their scoresheet but Limerick had the winning margin in place to ensure Croke Park erupted in green at the final whistle to cement this John Kiely led team as one of the all-time greats.
So champions for a third successive year and the best performance of each came on the biggest stage – simply remarkable from all 37 players in the 2022 panel and the management team that extends to 21.
"Absolutely the best one", exclaimed Limerick manager John Kiely.
"Look at the opposition we had to play. We played everybody in Munster and had an incredible battle with Clare in the Munster final and then we had Galway, who are a super side and who we have had huge battles with across the last five or six years and then to meet Kilkenny in the final," outlined the Limerick manager after his team's hat-trick of title.
"This means the world – we have such respect for Kilkenny and what they have done with various groups over the last 24 years (under Brian Cody). Their record is unparalleled and will take generations for it to be chased by anybody and probably won't be.
"The hallmark of their teams is always their hard work and tremendously skillful as well and their ability in the air and ability to take scores. They have it all in abundance and to win any final is brilliant to you know the challenge that is going to come to you physically and tactically and in hurling terms and to be able for that is a tremendous achievement for our boys and that's what makes it so special," said Kiely after a fourth All-Ireland SHC title in six seasons for his side.