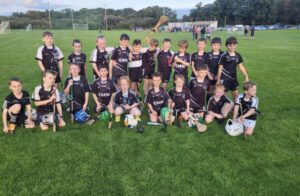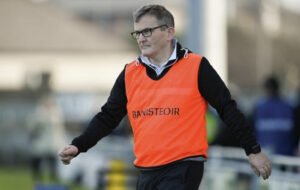 Newcastle West GAA Club Notes:
Lotto:
NCW GAA Lotto €17,200
This week's Lotto was held in 'Cleary's Bar' Numbers were 9,21,23,30. No winner.
€40 Jackpot winners: Moira McEnery, Eoin O'Regan & Stephen Ambrose, Brian O'Connor, Trevor Neville, Geraldine O Hanlon. Next Week's draw will take place in 'The Central Bar'.
Please support your local GAA Lotto. All funds collected go to supporting club development.
45 Drive Card Game:
Our NCWGAA Card Game is commencing next Saturday 2nd September in the Desmond Complex at 8.20 pm; Price is €10. Prizes on the night.
Please come and support your club and guaranteed a great night's entertainment.
Scor Sinsear:
Tra na gCeist (Quiz) takes place on Friday October 13th in Mungret at 7,30pm. If you're a wizz at a quiz please contact any member of the club to participate.
Jimmy Lee:
Limerick Senior Football Manager
Congratulations from all in the club to Jimmy Lee on his imminent appointment to the role of Limerick Senior Football Manger. We wish him the best of luck in his position and are looking forward to supporting him and the team in the green and white in the 2024 season.
Congratulations to the Leaving Cert Class of 2023:
Congratulations to all the young adults who got their results in their Leaving Certificate this week. Special shout out to our own club players, supporters and club members who got their results. Well done boys and the best of luck in your future careers and path forward! 'What's for you, won't pass you by '!
Bon Voyage:
Best wishes to Shane Stack who is off Downunder travelling. Shane has three Senior County Football medals for NCW and is a huge addition to our team and club. Safe travels Stacky and bon voyage.
Nothing Beats Being There:
Club championship is up and running and there are still lots of games to attend and a chance to support our boys in black and white. It's great for the younger magpies to see the older magpies playing and a great way to spend a few hours in the evening or an afternoon on weekends.
U16's are free, OAP's and students €6 and adults €10 – great value for some great entertainment. Tickets can be pre-booked on NCW GAA Facebook, Instagram or twitter accounts. Fixtures are advertised on media but always check social media on the day as fixtures are subject to change.
Please come and support the Juveniles and the Seniors as they play for their club in the black and white.
Senior Fixtures:
Junior B Hurling Championship Quarter Final
NCW v Adare on in Croagh on Friday 1st September @6.30 pm.
Lyons of Limerick Premier Intermediate Hurling Championship:
NCW v Cappamore in Killmallock on Saturday 2nd September @6pm
The Hurling is back for the next number of weeks, and we face Cappamore on Saturday. With two losses and a win so far in the competition every game is crucial at this stage. The performance has improved with each match, and we are looking forward to the game on Saturday. Best of luck to the boys.
Senior Results:
Irish Wire Products Senior Football County Championship R4
NCW 2-10
Kildimo/ Pallaskenry 0-11
This top of the table clash was eagerly anticipated and it certainly did live up to expectations. Both teams were unbeaten in the Championship with the winner on the night guaranteed a semifinal spot with a game to spare. The game took place in the Bog gardens last Thursday evening. NCW started the better, racing into a 4pts -1pt lead by the 14 min. following an Iain Corbett opening point and Eoin Hurley 3 pts (2f). For the next 6 mins Kildimo/Pallaskenry kept in touch on the scoreboard with excellent long-range points from Peter Nash, Cathal Downes and Tony McCarthy. NCW got a break on 20 mins with Brian O'Sullivan finishing to the net following an excellent passing move. Ht score 1-6 to 6pts in favour of NCW.
NCW had the assistance of a strong breeze in the second half playing into the dressing room end. From 30 mins to 43 mins NCW dominated and strong running from midfielders Sean Murphy, Emmet Rigter and Bryan Nix had Kildimo/Pallaskenry under a lot of pressure. Brian chipped in with 2 excellent points from play and assisted Sean Murphy with his long-range effort to put NCW ahead by 5 pts. Kildimo/ Pallaskenry hit a purple patch and dominated for the next 10 minutes and managed to put over three points from frees. These scores came once Kildimo/Pallaskenry midfield got on top and dominated possession with some excellent fielding. On 54 mins, NCW got a turnover on their own half back line and moved the ball quickly to Ian Corbett which allowed him to solo 40 yards before he was fouled for a penalty. Iain dusted himself down and rattled the net to close out the game. NCW defence was very well organised and marshalled by full back line of Mike O'Keeffe, Darren O'Doherty & Michael Cremin who along with half back line did not concede any score from play in the entire second half. Overall NCW will be happy with the outcome and qualify directly for the co. semi-final. It was a good free flowing game of football and well handled by referee John O'Halloran. Credit to Rathkeale GAA club for the pitch which was in excellent condition. Team: Michael Quilligan, Michael O'Keeffe, Darren O'Doherty, Michael Cremin, Ruadhan O'Connor, James Kelly, Brian O'Sullivan, Emmet Rigter, Sean Murphy, Iain Corbett, Shane Stack, Bryan Nix, Eoin Hurley, Mike McMahon, Aaron Neville. Subs used; Steven Brosnan, Brian Foley & Todd Donovan
Woodlands House Hotel County Premier Junior A Football R4:
NCW 1-13 Athea 0- 06
Game took place in Ballyhahill last Friday 25th August were NCW were coming into this Round 4 game with two draws and a win under their belt facing an Athea team without a win so far. NCW played against the breeze in the first half and started off playing the better football. The movement and slick passing resulted in in early scores from Niall McAuliffe (2), Mike O'Leary and Ethan Hurley. Our midfield pairing of Joey Healy and Lee Woulfe were on top and dominating well in the first half. Further scores from Brian Hurley and Lee Woulfe kept the scoreboard ticking over. NCW were on top in most areas, but an inspired last 10 mins by Athea enabled them to put 3 points on the score board – 1 from a free and 2 from long-range to finish out the half with scoreboard reading NCW 7pts – Athea 4pts.
In the second half NCW goaled after two minutes when a long ball from Niall McAuliffe ended up in the net. Athea hit a purple patch and dominated around the middle third for a period of 10 minutes, but NCW defence stood firm only coughed up two points. NCW weathered the storm and dominated the remaining 15 minutes scoring five points with some great long-range scores from Niall McAuliffe, Brian Hurley, Ben Finnegan, and Jack O'Connor. Overall, a well-deserved win for NCW who played a nice brand of fast attacking football. Great credit to Ballyhahill GAA for the pitch which was in excellent order and installing a new scoreboard.
Team; Andrew Ruddle, Oisín Brennan, Colm Foley, Jody Woulfe, Donnacha Woods, Brian O'Doherty, Mike O'Leary, Joey Healy, Lee Woulfe, Brian Hurley, Niall McAuliffe, Jack Duggan, Aaron Mullane, Ethan Hurley, Ben Finnegan
Subs:
Evan McMahon, Jack O'Connor, John O'Grady, Ross Donovan, Ciaran Alquadi, Paudie Kelly, Patch Noonan, Ronan St John
West Junior B Hurling Championship
Newcastle West 2-16
Tournafulla 1-09
Well done the Junior B hurlers who had a comprehensive win against Tournafulla last Saturday evening in Coolyroe. Kieran Guinea refereed. At half time Tour lead by 2 points with a scoreline of 1-08 to 1-06. Newcastle West played very well in the second half and secured another goal and ended far ahead in the scoreboard. NCW are now into a quarter final of the competition and well deserved. Well done boys.
Juvenile Fixtures:
Well done to our U14's Thomas Hanley, Jack Horgan and Kian O'Keefe that attended the Limerick underage hurling academy over last weekend.
Monday August 28th Mr. Binman U15 Hurling Championship Division 2 St Kieran's v NCW in Coolcappagh @ 7pm
Wednesday August 30th Mr. Binman U17 Hurling Championship Division 2A Kildimo Pallaskenry v NCW in Pallaskenry @ 7pm
Friday September 1st U9 Football Blitz in Dromin Athlacca @ 6.30pm
Saturday September 2nd U9 Football Blitz in NCW @ 10am
Juvenile Results
Monday August 21st Mr. Binman U15 Football Championship Division 1A Monaleen (Win) v NCW