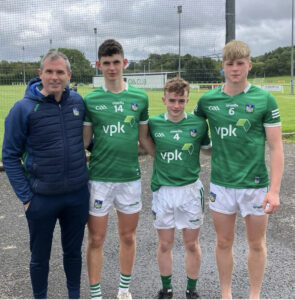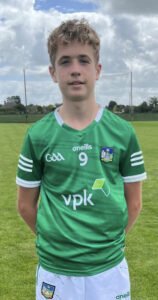 Mungret/St Paul's GAA Club Notes:
Limerick Players:
It was a disappointing result for the Limerick Football Team on Sunday last who lost by 2 points against Down in the Junior All-Ireland Final. Mungret had 2 players on the squad Carol Bateman in goal who had a fine performance, and Clare O Meara. A bus load of eager supporters made their way through Jones' Road in fine voice to cheer on the girls in green. Unfortunately things didn't go Limericks way on the day but you win some matches and you learn from others.
MSPCamogie were well represented on the Limerick teams in Dublin last weekend as they took part in the U14 National Blitzs. Abbey Nealon & Aoife Boyce (Limerick A) and Roisin O'Neill (Limerick 😎 also had the privilege of taking part in the parade at Croke Park the following day ahead of the All Ireland Camogie Final!
Well done girls, we are sure you will remember that day for years to come. We are proud of you all!
Congratulations to the Limerick U-15 Footballers who over came Wicklow in a very tight match in Monaleen on Saturday 12 August to be presented the Dermot Earley Michael Glavey's Shield. Mungret St. Pauls are well represented on the panel with Amhlaoibh Bohane, Jack Dervan and Jack O'Sullivan who was unable to attend the final and Darren Horan on the management.
Well done to the Limerick U-16 Footballers who played Offaly this morning. Mungret St. Pauls had Daniel O'Connell, Conor O'Lonaigh and Rory Mullins on the panel with Sean Ahern as part of the management.
We also had Adam Bennett in the Limerick U-14 football who played in the second round of the Jim Power tournament in Waterford on Saturday, they won their first match against Wicklow and were beaten by a well drilled Offaly team in the semifinals.
Realtal All Stars:
We have completed a very successful second year coaching children with additional needs. OUr season was much enhanced by the availability of the ball wall area.
We are all very grateful to our group of willing volunteers who give of their precious time so generously.
*Calling Coaches*
If you are over 16 and either garda vetted or can apply for vetting please join our group helping to coach boy and girls with additional needs for the coming season. Please contact Margaret on 087-6483156
Junior Camogie:
Our junior team travelled to Doon on Friday night to take on the hosts in the next round of the Ward Waste Products Ltd Junior A Limerick Camogie championship. Doon led by 2 points going into half time but the #MSPCamogie girls pulled away in the 3rd quarter coming away with a win
Captain: Aoife Morrissey Ref: Philip Dee Full time score: Mungret: 2-10 (16) Doon: 2-5 (11)
The girls will be back in action, this Fri night 11th Aug away to Blackrock / Effin.
U13 Camogie:
Congratulations to our U13 team who last week reached the U13 A league final. This was following a hotly contested win over Ahane Camogie Club We are very proud of each and every one of the girls.
Captain tonight was Rosa Harrington. Thanks to ref Philip Dee. Full time score: Mungret: 4-1 (13) Ahane: 2-4 (10)
The cup final will take place this Sat. 12th August v Crecora in Croagh – please come out and support the girls! Throw in 4.45pm.
U16 Camogie:
Our U16s has a good win last Tuesday when they travelled to Boher to take on Murroe Boher in the first round of the U16 B championship. Full time score: Mungret: 5-5 (20) Murroe Boher: 1-7 (10)
Next they take on Ahane, away on Thurs 10th Aug. Please be sure to come out and support the girls!
U-15 Football:
Both our U-15 footballers were out on Monday 7 August 2023, the night stayed dry for them which made play a lot easier. Our Division 1 team were away to Galtee Gaels. It was the hosts that hit the net early on in the game but this only drove on the Mungret St. Pauls players to get the scores up, at the half time whistle Mungret St. Pauls had a three point lead. There were not many scores in the second half as a game of possession was played on the pitch. Once Mungret St. Pauls secured their own goal it was a gap too far for Galtee Gaels as Mungret St. Pauls won with a seven point lead. This was the fifth win for this team as they hold their spot on the top of the table. They still have another three games to play with the next in two weeks time.
Mungret St. Pauls 1-11 Galtee Gaels 1-4
Our Division 3 Footballers played at home to Bruff, they knew it would be a tough game but they put in a strong game playing into the breeze in the first half they found themselves nine points down by the break. With the aid of the breeze and the players working the ball to the forwards they worked up their scores again. They brought it to five points behind which was a good result with Bruff on top of the group table, Mungret St. Pauls currently sit in fifth position with one more game to play against Monaleen in early September.
Mungret St. Pauls 2-5 Bruff 2-10
U-17 Football:
Mungret St. Pauls 3-10 Crecora Manister/ South Liberties 1-6
In Crecora on Wednesday 9 August 2023 our U-17 Footballers took on the amalgamated team of Crecora Manister and South Liberties and turned out to be successful in their game. It was a close enough game where one ball kicked to the net could change the way the game went very quickly but we were lucky we had the players available, and we look forward to the next game which is a week into September against Na Piarsaigh at home.
U-13 Football:
Mungret St. Pauls 2-7 Oola 3-4
In Oola on Thursday 10 August 2023, this was the last of the group matches for our Division 3 Footballers as they put in a great game against a strong Oola team and finished with the game all square. It was a very impressive game from our Division 3 footballers as they played against lads who were bigger than them but Mungret St. Pauls did not drop their heads, they went straight in for the tackle.
This game ended their group stages, the U-13 Division 3 team put in a lot of work to play against some teams who had a lot of 13 year olds playing. This team is a development team were a lot of these players had not played in this championship before but will play in Division 3 next year. A deserving break as our twelve year olds get to concentrate on their own matches. Well done to all the players who took part and we hope to see you all again next year.
Junior C Hurling:
Mungret St. Pauls 7-17 Na Piarsaigh 0-6
It was in Boher where we went for the Junior C Hurling match against Na Piarsaigh on Thursday 10 August 2023. Not much can be said about this game as it was a very one sided affair with Mungret St. Pauls having a field day with the scores, while Na Piarsaigh struggled in that area. A good win for our team to open the championship.
Their next match is the end of this month against neighbours Ballybrown.
Senior Hurling:
Mungret St. Pauls 1-14 Garryspillane 2-11
Mungret St Paul's and Garryspillane played out a thrilling 1-14 to 2-11 draw in Cappamore on Friday 11 August 2023. It was a Garryspillane free in added time that left both sides level by the full time whistle .
It was a strong game from Mungret St. Pauls who were up against Garryspillane who are known for their physical game on the ball. Mungret St. Pauls led by two points before one of the Garryspillanes players buried the first goal for them. There were some great blocked put in mainly from our own players as they prevented Garryspillane sending the ball into a dangerous position on many chances. At one stage Mungret St. Pauls held a five point lead only for Garryspillane to pick at it and level the game by the half time break.
Back out it was Mungret St. Pauls who opened the scoreboard again but Garryspillane kept matching each of our scores making it a tight game for both sides as each team wanted the win. It was the second goal that pushed our forwards into hitting the net themselves to retain the very small lead. It was coming down to the wire as both sides fought to get the win and with the ball in Garryspillanes hands it was not looking good for us to get a one point lead but a loss would be harder to take than a level game as the players came out in force to defend the goals, Garryspillanes attempt went askew and the game ended with the two sides taking home a point each. Mungret St. Pauls still top the bord at the moment but all could change.
Junior A Hurling:
Mungret St. Pauls 2-14 Bruff 0-14
The second outing for our Junior A Hurlers was in Croom on Saturday 12 August when they faced Bruff in a tough battle where it was the goals that was the only thing that seperated them.
Mungret St. Pauls had the strong breeze in the first half, it was neck and neck throughout the first half with Mungret St. Pauls having a slight advantage having netted a sliotar. Mungret St. Pauls 1-9 Bruff 0-8.
Ten minutes in and Bruff had pulled themselves back to a point behind but with a substitution on the Mungret St. Pauls team proved to be the right decision when we goaled for a second time. It was Mungret St. Pauls who finished well as they shot their next few balls over to win by the six points.
A great win which leaves us top of the group for the moment, the next game is near the end of August.
U13 A Camogie:
Hard luck to our U13s who were beaten by 3 points against Crecora on Saturday in the U13 A Cup Final which was held in Croagh. They battled hard in tough conditions and did themselves proud! Captain: Saoirse Browne Referee: Mike Flannery, Full time score: #MSPCamogie: 1-02 Crecora: 1-0
Big thanks to Limerick Camogie Development for organising, Croagh/Kilfinny Camogie Club for hosting and referee Mike Flannery.
Junior A Camogie:
Our Junior Camogie team travelled to Effin on Friday night to take on the hosts in the third round of the Ward Waste Products Limited Junior A Championship. After a sluggish start the girls battled away however, Blackrock Effin ran out as winners in the end. Captain on the night was Aoife Morrissey.
U16 Camogie:
Well done to our U16s on another great performance last Tuesday night, this time against Ahane Camogie Club away. Another 2 points on the board! Next up we play St Ailbes. Captain: Jayne Casey Ref: Morgan O'Sullivan Full time score: Mungret 5:12 (27) Ahane 1:6 (9) Keep up the great work girls!
Regina Long Tournament 2023:
We are both humbled and honored to see the applications come flooding in for this years Regina Long Tournament! The closing date of Friday 11th August has passed, so watch this space as our organising committee get to work! One thing is for sure – its going to be another great tournament!
Condolences:
We were very saddened to hear of the passing of Richie O'Brien, a past player and loyal supporter of Mungret St. Pauls.
Our Deepest Sympathies to his partner Deirdre, daughter Lexie, son Ewan, parents Noel and Anne, extended family and friends.