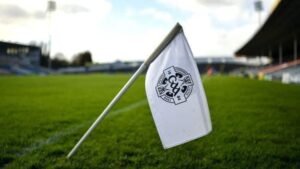 Kilteely/Dromkeen GAA Club Notes:
Sellers Prize: Pat Ryan
Next Draw: 9pm, 6th Feb, The Idler Bar, Knockane
Jackpot: €2,150
Tickets are on sale for just €2 at Noreen's Shop in Kilteely, Daybreak Dromkeen and from all lotto committee members.
You can play online at the following link https://clubforce.com/…/gaa-kilteely-dromkeen-gaa-club…/
Best of luck to everyone buying tickets and thanks for your continued support.
Every Step Counts:
Download the MyLife by Irish Life app today and join our club in the Munster Competition section on the app. Select Kilteely Dromkeen. We are currently ranked 40th in Munster thanks to you.
Membership 2023:
Registration to Kilteely Dromkeen GAA club is now open for all members including juvenile players. This is a requirement before training resumes for players.
This must be done online at Foireann.ie so please log in to your account from last year for your convenience. Any issues or if you are new to the system please email Secretary.kilteelydromkeeen.limerick@gaa.ie or contact any club official.
Despite improving our pitch surface and grounds we are happy to say our membership rates stay the same for 2023.
Any issues, please reach out.
Adult Player with fob access to alley €60
Student Adult Player with fob €40
Adult Non Player €30
Adult Non Player with fob €50
Family membership with 1 fob access (2 adults + up to 4 children) €90
Juvenile player (no fob) €30
Alley Use:
Please send an email to Kdgaadevelopment@gmail.com if you wish to receive a fob.
The facility MUST be booked in advance, please message Johnny, 087 132 7087 or James at 087 9646197 to make a booking. Please ensure you have €1 or €2 coins for the electricity meter.
Garda Vetting & Safe Guarding:
All our coaches who will be involved with children up to the age of 18 years old have to be Garda Vetted and Safe Guarded. It is an easy process to go through. Garda Vetting services are available to any person over 16 fulfilling a role of responsibility with children. Consent from a parent/Guardian shall be required for applicants between 16 & 18 years of age. If you have any problem, please contact our Child Welfare Officer Mairead Murphy at 087 6391284
Club Limerick:
Kilteely Dromkeen GAA Club are once more promoting the Limerick County Club Draw for 2023. There will be monthly draws from March to December with a top prize of €10,000. There are a host of other prizes to be won, 2nd €3,000, 3rd €2,000, 4th €1,000, 5th exclusive star prize, 6th to 9th €500, 10th to 13th €250, 14th to 30th €100. There will again be exclusive monthly prizes to be won. Entry to the draw is just €10 per monthly or €100 for the ten draws with the option to join our own ten monthly draw and County Club Draw for €150. If you would like to renew your membership for 2023 please follow the link limerickgaa.ie/clublimerick-draw-signup and select Kilteely Dromkeen GAA club and the number of draws you wish to sign up for. Note the first draw for 2023 is on Saturday 25th March.
KD GAA CLUB Club Gear:
KD GAA Club gear can be purchased from O'Neill's Sports. https://www.oneills.com/shop-by-team/gaa/ireland/kilteely-dromkeen.html
There is a wide range of club gear available for adults and kids.
St. Patrick's Players:
After an absence of three years from the stage, the St. Patrick's Players make a dramatic comeback with 'The Real McCoy'. This is a comedy to be enjoyed by adults and children alike. The group performed this drama in the past to full houses. Performances will take place in 'The Teach', Cloverfield on Friday, Saturday and Sunday – 10th, 11th, 12th February @8pm. Numbers are being limited this year so book early to avoid disappointment. Please ring Carmel 087-9397746 or Margaret 087-9421802. Your support would be very welcome as The Teach, like others drama houses has had no income for the past 3 years. Go raibh maith agaibh.
Limerick GAA 2022 Yearbook:
A full review of all Kilteely Dromkeen GAA Club activities both on and off the field plus photos in 2022 will be included in the Limerick County GAA Yearbook due to be launched in early February. The book would make an ideal present for a family member or friend.
Limerick GAA Club Tickets:
Limerick County GAA Board launched their 2023 Club season tickets recently. The tickets will entitle the bearer to entry to all Limerick County Board games in 2023 from minor to senior levels. The cost is €150 plus postage. Order your ticket now at limerick.ie/step/limerick-gaa-season-tickets-2023/
Club Info:
Kilteely Dromkeen GAA club have a Whatsapp group which will send out information on results and updates on matches and fixtures and other notifications relating to the club. Please contact the club PRO James O'Regan at 087 9646197 if you would like to be added to this group.
Social Media:
Follow all the club news and updated match results on Facebook, Twitter and Instagram under Kilteely Dromkeen GAA.
KD GAA Handball:
We have set up a Juvenile Handball Parents Group. Please let us know if you wish to be added to it.
Membership can be payable at €10. Details can be given and you will be added to the Foireann.ie dataset for registration. Training this week for 11-16 year olds is 11am Sunday 5th Feb in the ball alley.