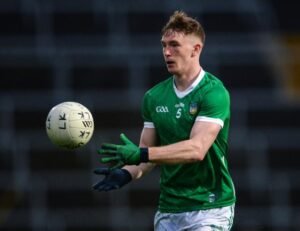 Impressive Limerick make it back-to-back wins in Tailteann Cup:
Bye John Redington Limerick Leader Sport
"I WASN'T overly enthused by the first half but we got the response on the restart and it gave us the result we wanted," was how manager Limerick Mark Fitzgerald summed up his mixed emotions after their 1-19 to 0-14 Tailteann Cup second round victory over Carlow at Netwatch Cullen Park on saturday afternoon.
The victory, coupled with Limerick's win over Longford last weekend, qualifies Limerick for the Tailteann Cup play-offs and leaves them fancied to advance automatically as group winners going into their final Round Robin game with Wicklow on the June Bank Holiday weekend.
Despite the second half flourish, it wasn't all plain sailing for Limerick in Carlow, however. A dominant opening which saw Limerick turn a deficit of two points into a lead of six points inside 20 minutes suddenly evaporated when the Leinstermen found their feet going forward.
It was still very much all to play for when home side Carlow had drawn level by half-time.
With an upset now a real possibility, it was up to Limerick to rediscover the intensity and composure of the early play, but it was a different scenario inside a minute of the restart when the Shannonwsiders blasted home the game's only goal through Paul Maher.
From that point on, there was only going to be one outcome as a blistering follow-up catapulted the visitors into a commanding lead and, chastened by their first-half realisation that their opponent knew how to finish once given decent possession, they never relaxed their vicelike grip on the remainder of the game.
Perhaps most impressive of all from a Limerick perspective was the self-belief shown after the break where, just like as in the previous win over Longford, they knew they were the better side and clinically went on to prove it.
The challenge facing them now is to repeat that against the stronger opposition they will face in the next phase but, on this performance, they look as if they're up for it.
Carlow started on fire, Jordan Morrissey gave them the lead on 16 seconds and it was all going their way when Niall Hickey added to it with a strike on the run. Up at the other end, Limerick's fist three attacks ended with wides but the game changed after Jim Liston opened their account and James Naughton equalised off a free.
With the momentum behind them and dominating midfield, the visitors imposed their dominance through Fahy and Brian Donovan and, after Colm Hulton's reply broke the sequence, a pair of Naughton free moved the gap out to five points.
Once there, however, the pace began to drop as did the concentration and unforced turnovers resulted in Darragh Foley's free and Ross Dunphy striking back.
It was enough to wake the Barrowsiders up and, as Limerick's composure wobbled, they pressed forward in numbers. Points from Conor Crowley and Foley's free brought the margin back to the minimum and, right at the end of the two added minutes, Limerick conceded a needless foul and were penalised for dissent which brought it within the range of Foley's equaling free on a score of 0-8 apiece.
The half-time break saw the introduction of Iain Corbatt and Hugh Bourke and Limerick's redirected intent was obvious when, immediately from the throw-in, a lightning move saw the ball end with Paul Maher at the edge of the square to drive low to the net.
Nor did the effort end there, as Naughton sent over a free, was followed by points from a Cathal Downes' mark, Donavan, Peter Nash and Naughton again, this time from play, building an eight-point lead inside ten minutes.
A run of injury stoppages broke the intensity, giving Carlow a response from Foley's pointed free and Ross Dunphy but, unlike the first half, Limerick's coverage of the entire field sucked the life out of the Barrowsiders' rally as the game entered the final quarter.
Bourke's pointed free, Nash from play and, following Morrissey's reply, Nash again and Robbie Bourke ended the game as a contest. Moving into the four added minutes, Morrissey, Foley's free and Aaron Amond put some shine back into Carlow's tally only for Nash to strike twice more with points at the other end to close the scoring.
SCORERS: LIMERICK: James Naughton 0-7 (5 frees), Peter Nash 0-5, Paul Maher 1-0, Brian Donovan 0-2, Jim Liston, Cillian Fahy, Cathal Downes (mark), Hugh Bourke (free), Robbie Bourke 0-1 each; CARLOW: Darragh Foley 0-5 (5 frees), Jordan Morrissey 0-3, Ross Dunphy 0-2, Colm Hulton, Niall Hickey, Conor Crowley, Aaron Amond 0-1 each.
LIMERICK: Donal O'Sullivan; Mike Donovan, Seán O'Dea, Brian Fanning; Barry Coleman, Jim Liston, Paul Maher; Cillian Fahy, Cathal Downes; Cian Sheehan, Colm McSweeney, Adrian Enright; James Naughton, Brian Donovan, Peter Nash. SUBS: Iain Corbett for Jim Liston (half-time), Hugh Bourke for Adrian Enright (half-time), Robbie Bourke for James Naughton (56 minutes), Tony McCarthy for Cathal Downes (60 minutes), Cormac Woulfe for Colm McSweeney (68 minutes).
CARLOW: Johnny Furey; Shane Buggy, Mikey Bambrick, Seánie Bambrick; Shane Clarke, Mark Furey, Jonah Dunne; Conor Doyle, Jordan Morrissey; Conor Crowley, Ciarán Moran, Ross Dunphy; Colm Hulton, Darragh Foley, Jamie Clarke. SUBS: Jonah Dunne for Jamie Clarke (injured, 23 minutes), Aaron Amond for Niall Hickey (59 minutes) Josh Maher for Mikey Bambrick (62 minutes), Eric Molloy for Ross Dunphy (62 minutes), Finbarr Kavanagh for Conor Doyle (70 minutes).
REFEREE: Anthony Nolan (Wicklow).