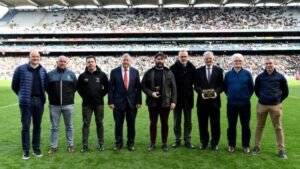 GAA pitch maintenance a collective responsibility:
By John Harrington
Spring has really sprung, soil and air temperatures are steadily rising, and grass is growing again.
If you're a GAA pitch manager, then this is the time of the year when the light at the end of tunnel comes more and more into view.
Grass doesn't grow in winter but the GAA is a year-round sporting organisation so the coldest season of the year is a tough one for those tasked with pitch maintenance.
That's a flora fact not always appreciated by your average supporter who by now expects to watch Gaelic games played on a green sward no matter what month it is.
That expectancy is greater than ever because the standard of GAA pitches is better than ever, so in a way hard-working pitch managers are victims of their own success
The Páirc Uí Chaoimh pitch is tended by a company called TurfTech, managed by Stephen Forrest, who is well aware of that level of expectancy and the criticism that can come if it's not met.
The Cork venue's pitch came in for plenty of it when after the newly built stadium was opened, but now it's the best regional pitch in the country.
That's not an opinion by the way, it's a fact, because before Sunday's Allianz Football League Finals in Croke Park, Forrest accepted the 2022 GAA Pitch of the Year award on behalf of his Páirc Uí Chaoimh pitch management team.
"Páirc Uí Chaoimh being awarded pitch of the year is a great reflection on our work and that of the Cork County Board as well," says Forrest. "It's well documented the problems the pitch had when the stadium opened originally.
"To be fair to the County Board, they took ownership of their decision-making and turned it around and invested in the pitch so that they would be able to produce a pitch that would meet the expectation of the stadium.
"Those well-placed foundations the second time around made our job a whole lot easier in the way we could concentrate on producing a pitch and managing a pitch rather than fighting fires all day every day.
"We've come full circle in what we've had to deal with from what we were dealing with when the Stadium opened to what we are dealing with now, it's just a completely different story.
"The pitch standard has increased dramatically over the last few years and the Pitch of the Year has to have had some part to play because you can see on the television that people are putting more and more emphasis on presenting their pitch, lining it correctly, striping it up and all of that stuff."
Another reason that the quality of GAA pitch surfaces has improved in recent years has been because of a growing realisation that their maintenance is a collective responsibility.
Not all of them are on the same page yet, but the majority of team coaches now understand that elaborate warm-up routines in condensed areas of the pitch can have a detrimental impact on their condition during the winter/early spring.
Croke Park Pitch Manager, Stuart Wilson, is appreciative of this slow mindset change, even if some coaches still have a journey to travel.
"We all take a huge amount of pride in what we do and what we're trying to achieve," he says.
"We're trying to achieve the best possible playing surface for the players, no-one else. A lot of maintenance practices go into that and we also face challenges because to try to achieve our goal of producing the best playing surface we have to deal with warm-ups and training-sessions that can be very damaging on the pitch.
"The coaches are the key part in this because the players are in the zone. They're just being told where to go. It's coaches who need to have the biggest understanding of what we're trying to tell them and what we're trying to achieve.
"We are trying to make them realise that if they destroy an area in a warm-up, that's going to have a huge impact on the pitch for the game.
"By the end of a high repetition warm-up sections of a pitch can be in a seriously bad way and it's not going to come back for weeks because there's just no growth or recovery throughout the winter months.
"Many people do not realise that you're dealing with something that's living. The grass part is living. I say to everyone in here that if you keep hammering and beating that up it's no different to me or you, if you do that to us, we're going to die, simple as that. That's what's happening with the grass plant. It's exactly the same scenario.
"Once that's died and it's been killed by being hammered and hammered and hammered, you have to then grow new grass back and to get seed germinated and established at this time of the year is a massive challenge as well."
"Thankfully we're seeing attitudes change and coaches are increasingly happy to support the ground staff by bringing their players to areas away from the pitch or specific areas mapped out on the pitch for their warm-ups.
"That's great, because the last thing any of us want, least of all is there to be a problem with the pitch at a decisive moment in the game."
It's not just team coaches who have an important part to play in helping pitch managers ensure our pitches are in the best possible condition. Supporters, too, should recognise they have a responsibility here too.
"Pitch invasions and half-time puck-arounds by hundreds of children are viewed by some as romantic GAA traditions, but they can cause huge damage to pitches, particularly at low-growth times of the year," says Semple Stadium Head groundskeeper Padhraic Greene. "Whilst this is going on there can be absolutely no repair work to the pitch carried out at half time."
So, when you watch Sunday's Allianz Hurling League Final being played on the immaculate green sward of Páirc Uí Chaoimh on Sunday, spare a thought for the huge work that has gone in to making it and so many other GAA pitches around the country look so well.
And perhaps appreciate the collective responsibility we all have to give our players a stage worthy of their talent.