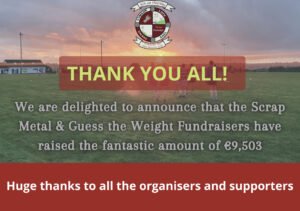 Athea GAA Club Notes:
Athea GAA Celebration Afternoon:
A large crowd attended the Athea GAA celebration afternoon at Con Colbert Memorial Hall on Bank Holiday Monday last. The crowd were entertained by musicians Jack Quaid, Donal de Barra, Colm Leahy, Caoimhe Ahern and Jerry Brouder prior to the presentations. County Chairman and Athea native Seamus McNamara was also present to present the awards. Paul Curry and Pat Sullivan were first presented with their plaques marking their contribution to Athea GAA as Chairperson and Secretary respectfully. It was noted that huge strides had been made in the Club during their service, with over €500,000 invested in the Club including the provision of the Walking Track which has opened up the facility to the wider community. Pat and Paul will both be remaining on the Athea GAA Executive Committee , albeit in a background role. Next up to receive their plaques were Johnny Mullane and Timmy Woulfe, who were recently appointed joint vice presidents of the Club as a fitting tribute to the men who achieved so much for Athea GAA both on and off the pitch. We were delighted to see so many of Johnny's and Timmy's family in attendance for their special awards. Timmy also presented the club with a hurley used by Timmy in 1963, which will be displayed in the Club. All present were then invited to join us for refreshments, included a Athea GAA cake which was specially made for the day. Many thanks to everyone for attending, to our wonderful musicians and all who looked after the refreshments on the day.
Scrap Metal Collection:
We are delighted to announce that the Scrap Metal & Guess the Weight Fundraisers have raised the fantastic sum of €9,503. The weight of Scrap metal collected was 41340kg
1st Prize €100 cash – Helen O Connor. Guess – 41, 270kg
2nd Prize €50 Cash – Julie Gleeson. Guess – 41, 230kg
Joint 3rd Prize €50 Voucher Horgans Garage X2 – Jason Quille & Elaine Tierney. Guess 41,200kg.Thanks to everyone who supported our fundraising efforts.
Clothes collection :
Club will be holding a Clothes Collection over next month. Bags of clothes can be dropped off at Clubhouse meeting room anytime until Monday 15th May.
We will accept the following
women's, men's and children's clothing, handbags, belts, all paired shoes, curtains, bed linen, towels and blankets
🚫 just NO PILLOWS OR DUVETS.
Limerick County Minor Team:
There was a good Athea contingent in Rathkeale on Thursday evening last in support of the Athea boys Evan, James and Callum in the Munster Minor Football Championship Phase 1 Round 3 , Limerick V Waterford. The final result was Limerick 1-8, Waterford 0-5. The Athea boys played extremely well, with Evan Curry scoring 1-03. Limerick next meet Tipperary in the Phase 1 final, and either way both teams will progress to the semi-finals where Kerry and Cork await. Limerick's only outright Munster Minor Football Championship win was achieved in 1956.
Áth an tSléibhe – Coiste na nÓg –2ú Bealtaine 2023:
Traenáil Peile Buachaillí & Cailíní:
Boys & Girls Football Training
Nursery,U7,U9 & U11 – Dé hAoine (Friday) @ 6.30pm
Newcomers welcome, please come and try out.
Traenáil Peile Buachaillí:
Boys Football Training
U13 – Dé Luain (Monday) @ 6.30pm
U15 – Dé Céadaoin (Wednesday) @ 7pm in Athea & Dé hAoine (Friday) @ 7pm in Glin
U17 – Dé Céadaoin (Wednesday) @ 7pm in Glin & Dé hAoine (Friday) @ 8pm in Athea
Traenáil Iomána Buachaillí & Cailíní:
Boys & Girls Hurling Training:
Nursery,U7,U9 & U11 – Dé Domhnaigh (Sunday) @ 10am
Newcomers welcome, please come and try out
Limited number of Helmet and Hurley's available for newcomers for first few weeks.
Traenáil Iomána Buachaillí:
Boys Hurling Training:
U13 – Dé Domhnaigh (Sunday) @ 10am
Tabhair leat sciatha Guma agus uisce le do thoil.
Please bring Gum shields and water.
Ballraíocht:
Membership:
Membership for all Coiste Na Nog members (Nursery to U 17) needs to be paid ASAP.
Torthaí
Results:
U11 Boys and Girls Football
We travelled to Staker Wallace on Tuesday last to play Cois Laoi Gaels in the first round of the U11 football league. We were delighted to have 18 players available for the match and were able to field two 9 a-side teams. Both Athea teams played excellent football. Next match is at home to Monagea on Tuesday 9th May @ 6.45pm
U13 Boys Hurling:
Our U13's travelled to Glenroe on Thursday in there first match of the season and what a start it was. Winning on a scoreline of 6-4 to 0-0. Every player gave 100% and played some very impressive hurling and great team playing. Team Tom Mullane, Tadhg Hunt, Kane Brouder, Nathan Ambrose, Jamie Brosnan, Cathal Fitzgerald, Paddy O'Connor, Daniel Hunt, Mark Collins, Jayden Kiely, Aarron Hunt,Tony Ambrose, Liam Og Reidy, Se Ahern, Edward Kelly.
Next match is at home to Claughaun on Thursday 11 th May @ 7pm.
Cluichí Coiste na seachtaine seo:
This week's Coiste fixtures:
Thursday 4th May
U13 Boys Football – Athea V Askeaton Ballysteen Kilcornan in Athea @ 7pm
Nótaí Eile:
Other Notes:
Cúl Camp
Registration is now open for this year's Cúl Camp. It will take place from 10th – 14th July. Book now by visiting www.kelloggsculcamps.gaa.ie